What is M3?
M3 is short for Madison Money Manager, which is our student financial account portal. This is where students, parents, or anyone authorized by the student can view or make an online payment to the student's JMU account. There are three different versions available: Student, Authorized User, and Guest. 
For a detailed walkthrough of pages on Madison Money Manager (M3), please take our M3 tour here.
Accessing M3
Student Access
Every student has an M3 account that is accessible through MyMadison.
Login to MyMadison
Click on the "Student" tab
Click on the purple "Student Center" button
Scroll to the Finances section
Click on "M3 - My Student Account"
Click "Allow" in the pop-up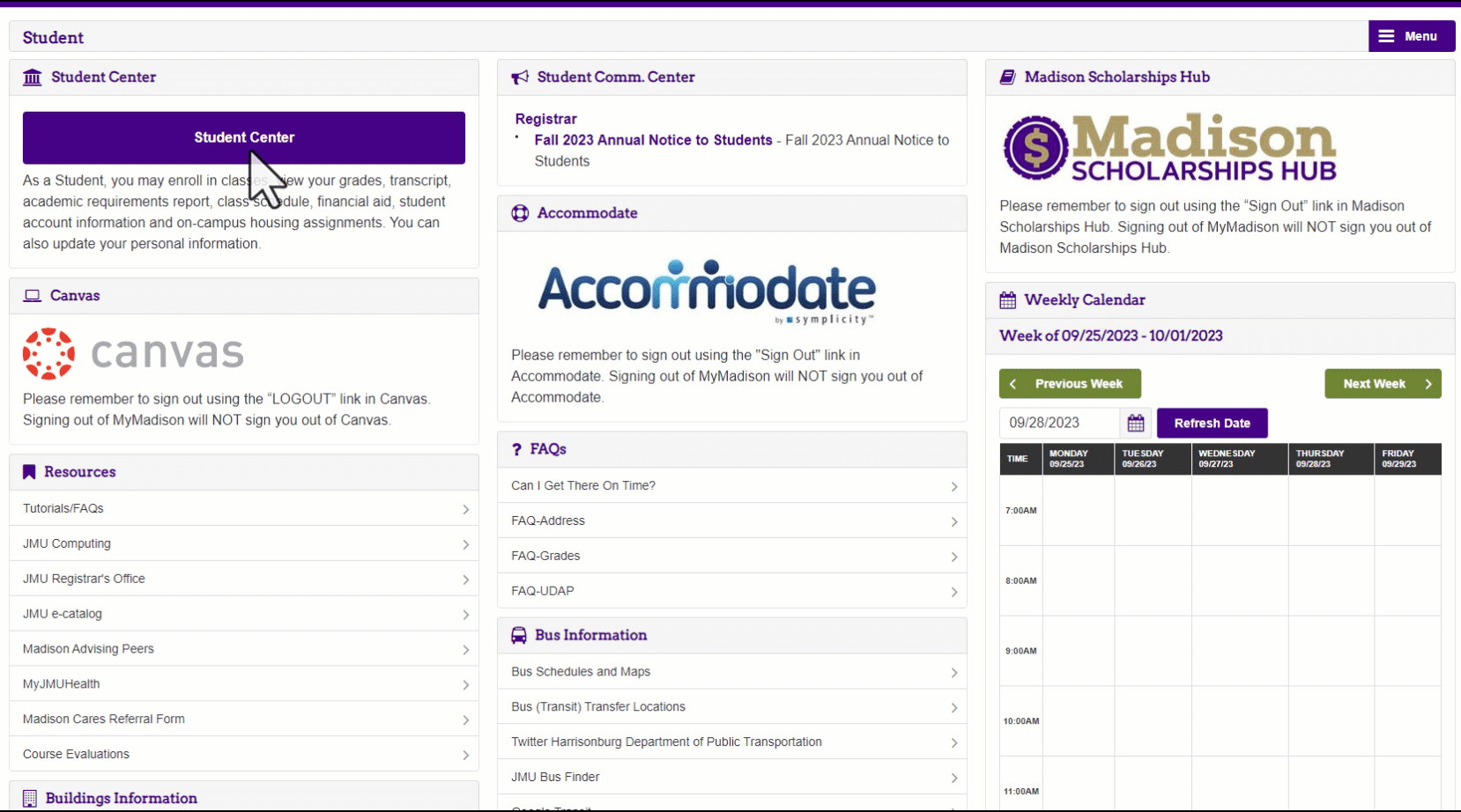 Authorized User Access
Authorized Users must be set up and given official access by the student
Steps for set up can be found below under Authorized User Setup
Being an Authorized User includes:

a separate login portal to M3 via the Authorized User login portal
receiving notifications the University Business Office (UBO) provides to the students about outstanding balances, posted statements, and available 1098-T forms
ability to speak with UBO staff members to discuss student financial account details
Student information maintained by the UBO can only be provided with this authorization due to JMU Student Privacy Policies. Authorization to speak with other departments does not provide authorization to speak with the UBO regarding the student's account, and authorization to speak with the UBO does not provide authorization to receive information regarding the student's financial aid, grades, or other student information. Without being set up as an Authorized User, the only information UBO staff can provide is the amount due on the account.
Guest Access
Guest access is the most limited way to use M3
the only feature users may access through this area is the payment option (no balances or account information will show)
Sign in through the Guest login site requires the student's ID number and last name
Authorized User Setup
Authorized Users are set up by the student. By setting up an Authorized User, the student is allowing someone other than themselves to view their student financial account. Authorized Users do NOT have access to financial aid, grades, or other online student information.
While it is not required to set up an Authorized User, it is highly recommended.
Set Up Steps:
Student logs in to MyMadison and navigates to M3 (see above for steps)
Once in M3, click on My Account at the top left
Under the Payers section, click on "Send a payer invitation"
Enter in the name and email of the person who will be set up as an Authorized User (Payer)
Click Send Invitation 
An email will be sent to the address entered with steps to finish setting up their account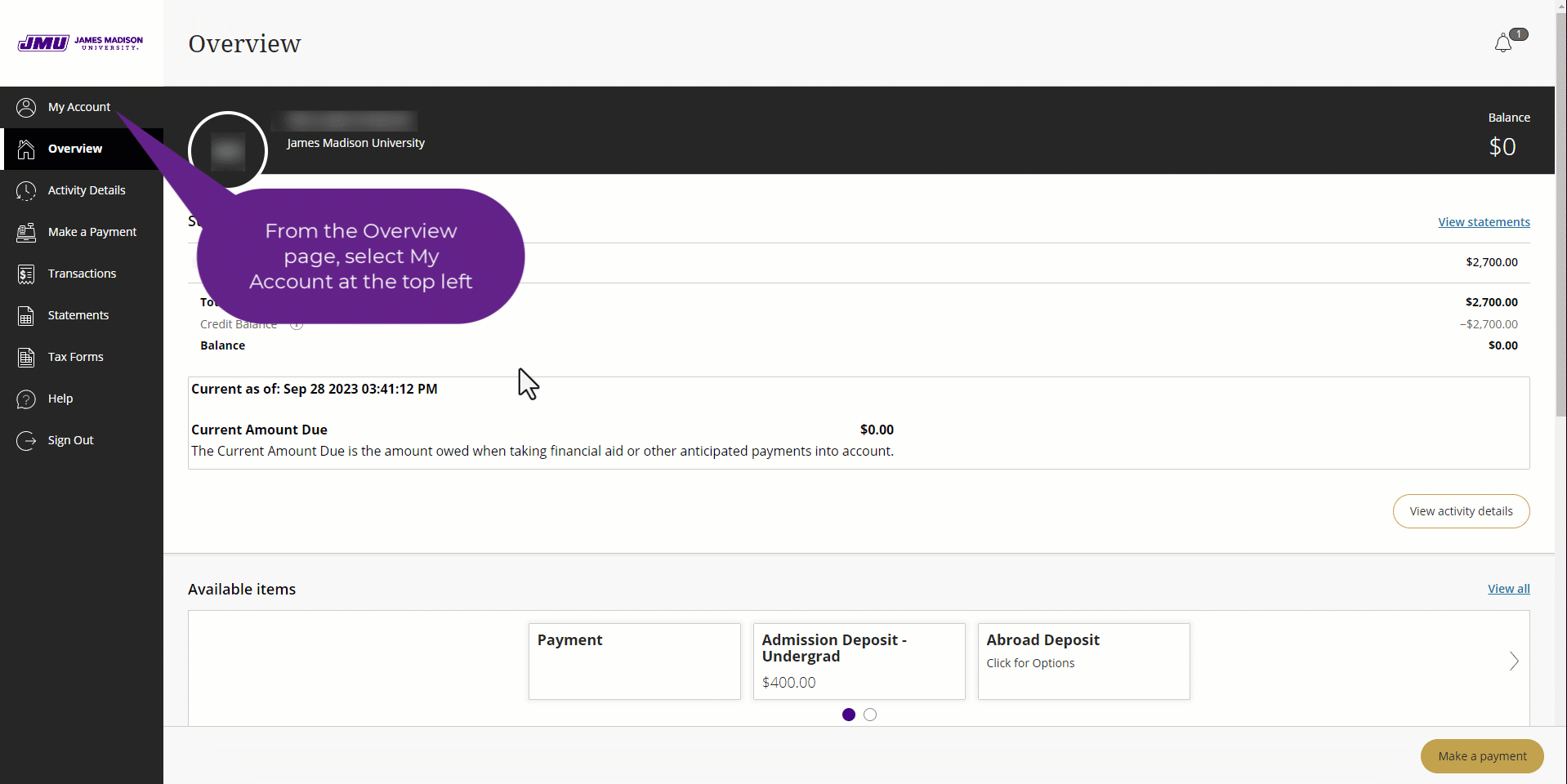 Paying Through M3
Payment can be made by eCheck or credit/debit card (Visa, MasterCard, Discover, American Express).
Students and Auhtorized Users have two places to pay in M3

The left navigation menu has a "Make a Payment," option
The bottom right of the Overview page has a gold "Make a Payment" button

NOTE: The "Available items" listed on the Overview page are not necessarily something you need to pay, they are just common items being paid right now.

The "Payment" option is a way to make a custom amount payment which is useful when you have pending aid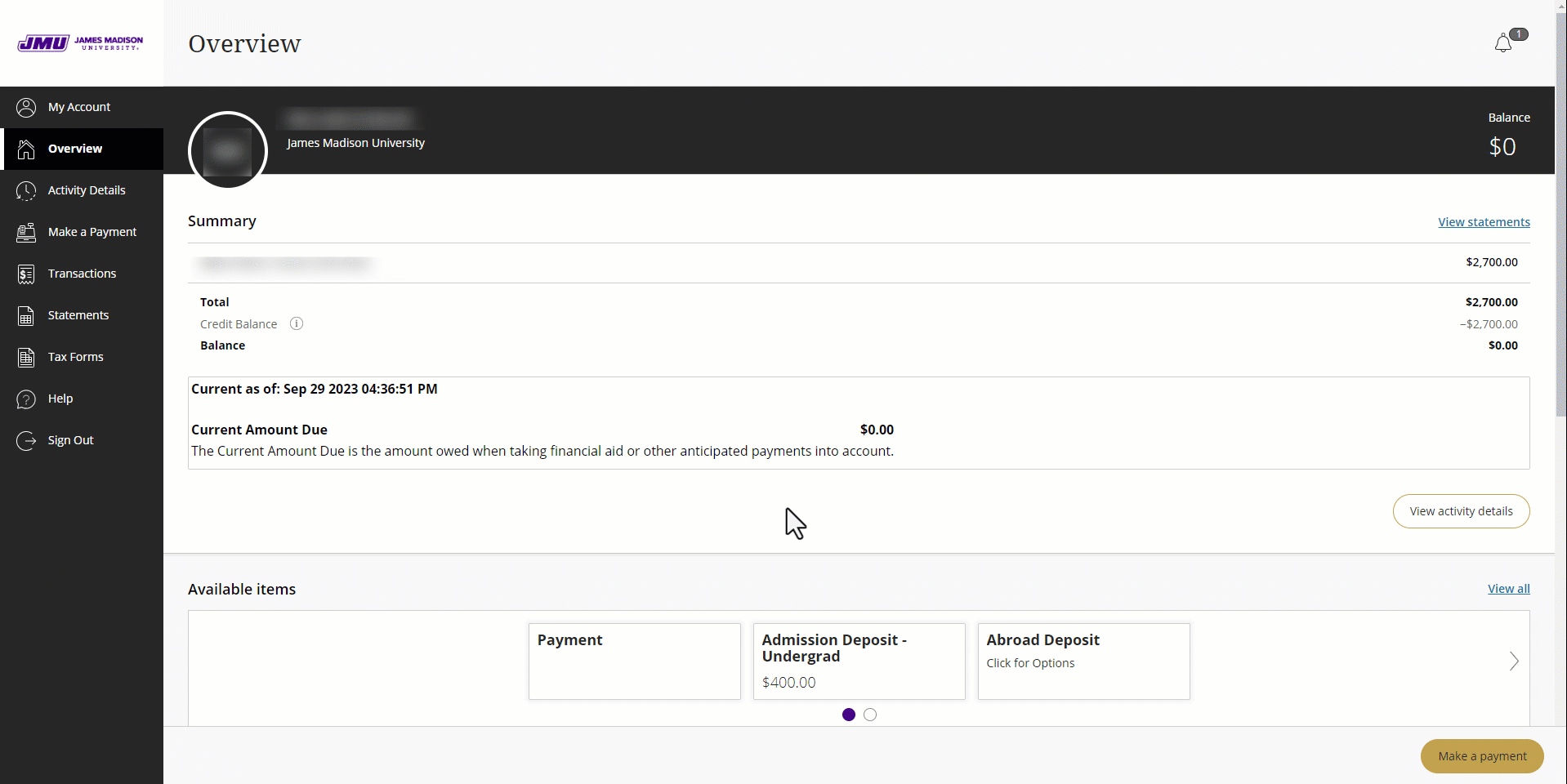 The payment screen displays the outstanding items on your account

Select some or all of the checkbox items and then scroll down to the bottom of the page to the gold checkout button



Alternatively, if you have a credit balance on the overview screen and just want to pay the balance due amount, do not check any of the items and scroll down on the page to the "Payment" box under the Available Items header. Enter in the amount to pay and the semester. Click "Add to Payment" and then scroll down to the bottom of the page to the gold checkout button
Select or add a payment method. Credit card payments will have a service fee
If paying with credit card, confirm the service fee amount and read/acknowledge the terms and conditions  
Review and confirm the amount, the payment method, and the email for confirmation. Click the gold "Pay" button at the bottom right