Armed Forces Federal Tuition Assistance (TA) is a benefit paid to eligible members of the Army, Navy, Marines, Air Force, and Coast Guard. Congress has given each service the ability to pay up to 100% for the tuition expenses of its members, maximum of $250 per credit, not to exceed 16 semester credits or $4000 per fiscal year. TA does not cover any comprehensive fee or course fee charges. 
Active duty service members who intend to use military Tuition Assistance (TA) should contact their Educational Services Officer (ESO) for information on TA prior to proceeding with the enrollment process. Each service has its own criteria for eligibility, obligated service, application processes and restrictions. This money is usually paid directly to the institution by the individual services.
Contact your branch for details on your eligibility and the branch's process for submitting the Tuition Assistance form. Recently changed to ArmyIgnited
Army Federal TA Specific Information
Student Tutorials for Army TA:
Account Setup Information:
Soldier must create an Education Goal in ArmyIgnitEd.
Soldier must load an Evaluated Degree Plan (EDP) into their ArmyIgnitED profile with their required courses for graduation. Soldier uploads it themselves or Army Counselor can upload it. JMU is not able to upload it for you. 


The 104R form is an acceptable document to use for this requirement
You may or may not be able to use your Academic Advisement Report and Unofficial transcript. Both are found in your Student Center in MyMadison. Check with your Education Center for what will be accepted. More information found on this document. 
It must include the soldier's name, school name, name of degree pursuing, classes/credits required for graduation/completion, evaluation of all successfully completed prior coursework (transfer credit) and evaluated military training and experience (JST or CCAF).
Note: If you manually create this document through Word, Excel, or another application, we'd appreciate if you saved it as a PDF for uploading ease.

Soldiers must have a signed TA User Agreement in their new account. It was previously called a Statement of Understanding (SOU).
Soldiers are required to complete the Virtual TA training after creating an account and annually thereafter.
Each semester you want to use Federal TA through ArmyIgnited:
Soldier initiates the Tuition Assistance. 
The earliest you can request TA is 60 days prior to the start of the term. It is important that you request TA as early as possible to ensure you will be approved for TA or have an option to drop the course without penalty.
Soldiers must request TA no later than 7 days prior to the course start date. DO NOT WAIT UNTIL THE 7TH DAY. This chart outlines the cut off deadlines to request TA based on the start date of the course (date listed on your class schedule in mymadison). 
You MUST enter your course dates correctly or the TAR for that course could be rejected. Use your student schedule in MyMadison for the correct dates. 
You will need to provide JMU (POC: Cindi Sechler) with an authorized Tuition Assistance Request (TAR) once you request TA each semester.
If the Soldier has questions on this new TA process, please contact your servicing Army Education Center for assistance.
The image below are reminders that we were sent by TA Headquarters. Keep them in mind: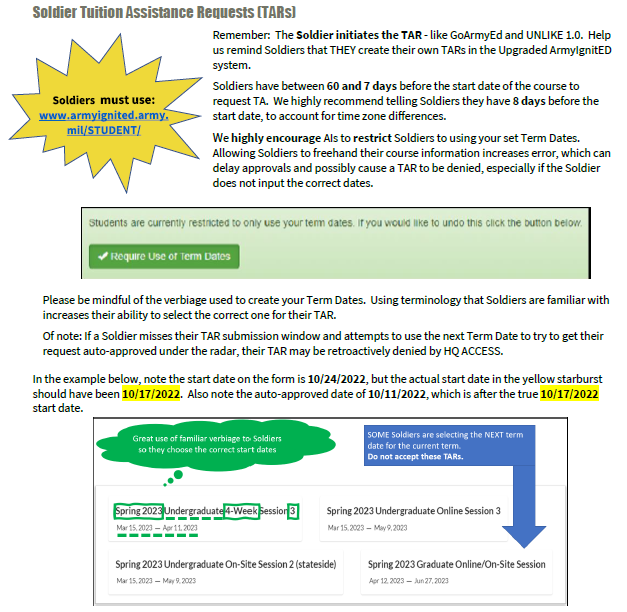 Financial Aid and Tuition/Fees Resources

Contact Information:
For assistance applying for Federal Tuition Assistance or any procedural questions at JMU, please contact Ms. Cindi Sechler in the University Business Office. 

Additional Information: 
Effective Fall 2021 and Forward - the Department of Defense issued a memorandum to Veterans Affairs' (VA) Education Service approving the use of concurrent receipt for Federal Tuition Assistance (TA) and the Montgomery GI Bill® -Selected Reserve Education Benefit (MGIB-SR or chapter 1606). 
This means: All qualified MGIB-SR Service members are authorized to use both TA and MGIB-SR benefits concurrently when enrolled in a program of education that is half-time or greater. Concurrent use is not authorized when enrolled less than half-time. 
Prior to Fall 2021, per DOD policy, students cannot use Chapter 1606/1607 and Federal TA for the same course.