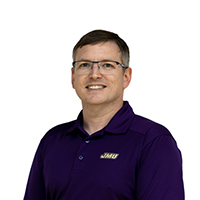 540-568-8710
UREC 252
Jake Coffman joined UREC in 2022 after working in the JMU Information Technology department for three years. As the UREC Technology Manager, Jake ensures that all software and hardware technology is working efficiently and at UREC standards. He works with student staff to care for all IT related needs, both inside UREC walls and at satellite facilities.
Jake has worked in many IT sectors in various roles over the past 15 years including Help Desk, Desktop Technician, LLC and Non-Profit Technology Managers, Network Operations Center (NOC) Technician, Supervisor and Manager. He has received CompTIA A+, Network+ and Security+ certifications along with iTIL Foundations certification, Interviewers Edge and Soaring Eagles Leadership program.
Jake was born and raised in the Shenandoah Valley in a small town east of Harrisonburg. In his twenties, he moved to Las Vegas, NV with his wife. During their 8 years in Las Vegas, they adopted 2 cats (Moe and –n) and a dog (Jameson) and had a son named Killian. They enjoyed life in the desert, but ultimately moved back to Virginia – where the grass really is greener – in 2018.
Jake enjoys spending time with his family, playing any and all sports and ensuring he can get a smile or laugh from someone before the day is up. Jake's favorite thing about UREC is the caring, passionate staff and motivated students.