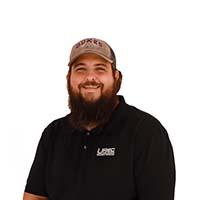 540-568-8719
UREC 149
Travis Bussey joined the UREC team in 2016 as the Pool Technician/Maintenance Assistant and currently serves as the Building Maintenance Manager. He is responsible for making sure building maintenance tasks are taken care of and UREC's two swimming pools and spa run smoothly day to day.
Travis was born and raised two hours south in Roanoke, VA. Before coming to UREC, Travis worked for Facilities Management at JMU for nine years in the Life Safety Department. Travis attended Virginia Western Community College, where he completed the Electrical Journeyman's Curriculum in 2006. He is also part of the National Swimming Pool Foundation where he earned his Certified Pool Operators Certificate. 
Travis is married to his wife, Priscilla, and they have two boys, Jaydon and Jaxon. In his free time, Travis likes to spend time with his young family, repair/rebuild vehicles and BBQ. His favorite things about UREC are the family atmosphere and positive work enviornment provided by all the staff and students.