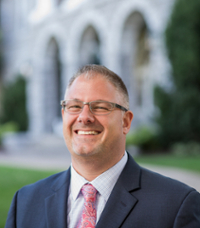 Scott Rikkers, Director
Music Building - Band Office Room 210
(540) 568-6033
rikkersd@jmu.edu
---
Scott Rikkers is the Associate Director of Bands and Director of the Marching Royal Dukes at James Madison University. A native of Kalamazoo, Michigan, he received his Bachelor of Music Education from Western Michigan University and Master of Music Education from James Madison University. At JMU Mr. Rikkers is the Director of the Marching Royal Dukes, coordinator of the basketball pep bands, directs the Concert Band, teaches Music Education courses, and supervises student teachers. Prior to his current appointment, Mr. Rikkers was the Assistant Director of Bands at The University of Montana where he coordinated the athletic band program, conducted the University Concert Band, and assisted with the Music Education curriculum. He held a graduate assistantship with the James Madison University band program prior to which he taught k-12 music in Michigan, holding positions in General Music and Middle/High School Band.
During his time at James Madison, the marching band has traveled abroad to Ireland, Paris, London, and Italy.  Most recently, they toured Florence, Siena, and Rome, and performed in the Rome New Year's Celebration with the highlight being a performance at the Pope's New Year's blessing in St. Peter's Square amongst a crowd of over 85,000. Under his direction, the band has made two appearances in the Macy's Thanksgiving Day Parade as well as traveled with the football team to capture two FCS Division National Championship titles (2004/2016). The band has been active in the USBands and Bands of America/Music For All circuits, and has an active performance schedule in the region and around the East Coast. 
Mr. Rikkers is a member of Phi Mu Alpha, Phi Delta Kappa, Pi Kappa Lambda and an honorary member of Kappa Kappa Psi and Tau Beta Sigma. In addition, he holds affiliation with the Virginia Music Education Association, Virginia Band and Orchestra Directors Association, North American Brass Band Association, Collegiate Band Directors National Association, and the National Association for Music Education. He has been an active clinician for both marching and concert events in Maryland, Michigan, Montana, South Carolina, and Virginia. In 2010 he traveled to Venezuela with a group from JMU to study the Venezuelan Youth Symphony program, El Sistema. There he was a guest conductor with the Merida state Wind Ensemble.
---
Nieves Villasenor, Assistant Director
Music Building - Room 212
(540) 568-6763
villasnx@jmu.edu
---
Nieves Villasenor is the Visiting Assistant Director of Bands at James Madison University, where he serves as Assistant Director of the Marching Royal Dukes, Director of the JMU Pep Band, and conducts the JMU Symphonic Band.  He also serves as Artist-in-Residence at the Virginia Mennonite Retirement Community (VMRC) in Harrisonburg, Virginia. Mr. Villasenor is currently completing his candidacy for the Doctor of Musical Arts in Instrumental Conducting with a cognate in Nonprofit Organizations from the University of Florida.
Mr. Villasenor hails from the transient military community of Jacksonville, North Carolina. He holds a Master of Music in Instrumental Conducting from Syracuse University, a Bachelor of Arts in Music in Saxophone from the University of North Carolina Wilmington, and an Associate of Fine Arts in Music and Music Education from Coastal Carolina Community College in Jacksonville, North Carolina. 
As a strong advocate for community music and avid collaborator of area musicians, Nieves was the founder and artistic director of the San Antonio Community Wind Ensemble, a program offering of Crossmen Productions, Inc. and ensemble-in-residence at Texas A&M University San Antonio. He served as the Director of Secondary-School Music at Jubilee San Antonio Charter School and developed the school's first-ever band and color guard program. Mr. Villasenor was also a performer in the WGI Independent World Class Silver Medalist Indoor Winds unit, Crossmen Winds, and a saxophonist with  River City Big Band based out of San Antonio. In New York, Mr. Villasenor competed with DCA Open Class Finalist corps, White Sabers Drum & Bugle Corps, was a performer with activist ensemble, Unity Street Band, and became co-founder, of the region's first WGI Independent Indoor Winds unit, Vortex Indoor Winds. In 2022, Mr. Villasenor was selected as the recipient of University of Florida's Graduate Teaching Award for his work with the introductory music-major conducting course. 
Mr. Villasenor serves annually on the instrumental music faculty of the North Carolina Governor's School East at Meredith College in Raleigh, NC, the nation's oldest statewide summer residential program for academically and intellectually gifted high school students.
Nieves's professional affiliations include Mu Phi Epsilon International Music Fraternity, Tau Beta Sigma National Honorary Band Sorority,  Honorary Membership of Kappa Kappa Psi National Honorary Band Fraternity, CBDNA, North American Saxophone Alliance, Texas Music Educators Association, North Carolina Music Educators Association, the New York State School Music Association, New York State Percussion Circuit, and Florida Bandmasters Associatio