Support the Honors College
Donor Spotlight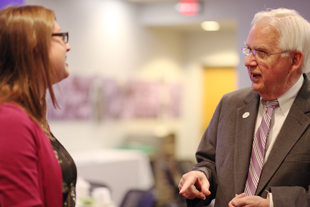 Russell Warren explains why JMU is the perfect place for his honors scholarship and legacy. Read more.
---
The Honors College Fund 
JMU Foundation Account #1000232
This fund supports student scholarships and awards for excellence, undergraduate research, students' conference presentations, group trips to historic or educational sites, visiting speakers, faculty development, and program operations.
---
The Hillcrest Honors College Scholarships Fund
JMU Foundation Account #1002122
Established by the Honors Advisory Council, this fund supports an off-campus summer enrichment experience. Students may use the scholarship to carry out research, to participate in an internship, to engage in a service-learning project, or to fund language training or another training program related to the applicant's academic goals. Students apply in their second year, develop and refine the project with a faculty mentor throughout their junior year, and implement the project during the summer between their third and final undergraduate year. Learn more about the Hillcrest Scholarships.
Thank you for supporting the Honors College!