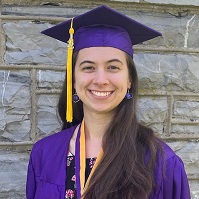 If you were to tell Madison Sarlo during her freshman year that she'd eventually be one of JMU's valedictorians, she said she'd think it was a prank. If you were to tell her that one year earlier, well, it wouldn't have been possible because Sarlo was at a different college. 
But now, the fifth-year senior and biology and psychology double major and Honors interdisciplinary studies and pre-med double minor is one of five valedictorians in this year's graduating class. She boasts a 4.0 GPA — which can drop to a 3.9, "worst case," by the end of this semester, Sarlo jokingly added — and did her Honors capstone project on a combination of Terror Management Theory and political polarization, seeing if death anxiety (or anxiety about death) increases the liberal and conservative divide.  
And at this point, professors who served on Sarlo's capstone thesis committee aren't surprised in the slightest about her new honor. 
"[She] was probably the easiest person I've ever advised," Lindsay Harvell-Bowman, JMU communications professor and Sarlo's thesis advisor, said. Harvell-Bowman said she's advised dozens of undergraduate honors and graduate theses throughout her career. "She's an amazing writer; the amount of preparedness, the amount of stuff that she takes on with ease … I mean, she's just amazing."
Jamie Kurtz, psychology professor and reader on Sarlo's thesis committee, said that in her 12 at JMU, she's never met a student who could write so well. Even with jargon that takes time for most students to synthesize, Kurtz said in an email that Sarlo "could just…do it." 
Sarlo was also in Harvell-Bowman's lab group, which does work to understand Terror Management Theory — which, as Harvell-Bowman said, "addresses the psychological impact of the juxtaposition of wanting to live, yet knowing you will die." Harvell-Bowman brings that group every year to the Existential Psychology Preconference at the Society for Personality & Social Psychology to discuss the theory with terror management's founders and scholars. In March 2021, Sarlo went virtually with Harvell-Bowman's cohort.  
There, Sarlo carried on a 1 1/2 hour conversation with the founders of the theory. They didn't leave Sarlo's Zoom breakout room for that entire 90-minute session, Harvell-Bowman said. 
"It was effortless," Harvell-Bowman said. "We were in a pandemic, so it was complicated, but you would have never noticed." 
For Sarlo, however, this psychology-biology-neuroscience-Honors College path at JMU was almost never in the cards. After graduating from Woodson High School in Fairfax, Virginia, she first went to the University of Mary Washington because she thought then she'd enjoy a small school better, she said. 
After that first year, Sarlo said she felt unsatisfied at Mary Washington. It didn't take long for her family of Dukes to convince her to give JMU a try, where she transferred before her sophomore year. Sarlo said she's named Madison after JMU's namesake, and her mom has two JMU degrees, making her a "double Duke." She was the first person in her family to initially not go to JMU as at the time she thought the school's size seemed too overwhelming, she said.
Now, Sarlo's changed her mind. 
"It ended up being, I think, the right decision for me," Sarlo said. "I really, really love it here."
Academic-wise, Sarlo started out as a psychology major, most interested in "just how people work." Then, more research on the brain and in neuroscience led to her double majoring in biology. 
Declaring a biology double major meant she'd have to take organic chemistry, a class she said she was "so scared" to take. She took it in the first semester of her junior year. The final transcript showed an A.
It taught Sarlo something that she said has carried her to greater heights since. 
"At that point, it was, like, OK, bring it on. I will take whatever classes I find interesting, and I will challenge myself and I wasn't scared anymore at that point to really try and aim high because I had proven to myself what I was capable of doing," Sarlo said. "That was a really, really pivotal moment for me."
Since then, Sarlo's won an Excellence in Biology Award and a Senior Award for Academic Achievement in Psychology to go along with her valedictorian nomination. She was notified of her top-of-the-class status via email, which after receiving it, she had "kind of this, like, existential crisis": Sarlo called her parents — who almost cried, she said — and said the whole ordeal has been surreal especially considering her trepidation to take science courses that she thought she'd fail. 
It's shown Sarlo that she's capable of getting through tough things, she said. 
"I didn't think I'd ever be here," Sarlo said. "I hope to inspire other people that it is good to go outside of your comfort zone and challenge yourself … You can do things and you can fail and it's OK. Like, I mean, it's not going to be the end of the world. But if you hold yourself back and you never challenge yourself and you never give yourself that chance to grow, the consequences of that are going to be far greater than occasional failure."
After JMU, Sarlo said she's going to take a gap year or two to work before applying for Physician Assistant schools — she said she's pursuing this route over medical school because it provides a better work-life balance. Sarlo has a job lined up in May as a Medical Assistant for Advanced Dermatology in Northern Virginia. 
Wherever Sarlo ends up, those who've taught her think the valedictorian distinction is just the beginning. 
"I just kind of feel like I'm sitting on the sidelines just watching her go," Harvell-Bowman said. "She's going to change the world. I cannot wait to see it."
Written by Grant Johnson, ('24)