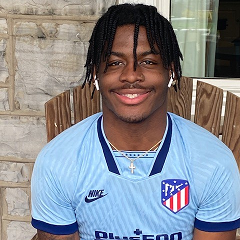 Written by Kate Peppiatt, '23.
Story Update: December 2021

When Deaquan Nichols was first interviewed for an Honors Highlight, he was a first-year student just beginning his research. Now, the Biophysical Chemistry and Independent Scholars (Neurochemistry of Trauma) double major has analyzed his data and is seeking to get his results published in a physics and chemistry journal.
         Deaquan researched how to successfully accelerate photosynthesis to find a more efficient energy source. "We live in a society where we don't take care of the Earth," Deaquan emphasizes. Seeking to address this issue, Deaquan developed a hypothesis. He hypothesized that by adding a protein to the process, it could alter how quickly photosynthesis occurred. With resounding results, Deaquan found a way to accelerate photosynthesis by 1,000 times the normal rate. For reference, it is normal for research in this field to be published with only an increased acceleration rate of 10 times the normal amount. Using laser equipment his professor acquired from the national Arlington lab, he evaluated how fast electrons travel, to the femtosecond, to get these significant findings. With these results, Deaquan hopes to "make cleaner, more efficient energy." Additionally, he was recently granted a national 2022 Annual Biophysical Society Conference Travel Award. Therefore, in February, he will travel to San Francisco to present his research.
         Completing a majority of his research during the summer, Deaquan used the Witherspoon Scholarship to fund the project. The Witherspoon Scholarship is "available for a student who seek to complete an immersive summer research experience with a mentor, on- or off-campus." Deaquan credits this opportunity with making him "a better scientist, a better man."
         Outside of the lab, Deaquan is also making significant contributions to the JMU community. Currently, he serves as an RA in the Haynes Scholars Learning Community: a community dedicated to minorities in STEM. Essentially, it's "right up his alley." Looking to the future, Deaquan plans to study abroad. Recently awarded the Benjamin A. Gilman International Scholarship, Deaquan will travel to England for the Honors Semester at Oxford program. After graduating, Deaquan plans to go to medical school with the ultimate goal of becoming a pediatric oncologist. As Deaquan continues building his career, he will continue to have a positive impact in and outside the lab. 
Original Story: Spring 2021
Attending the Summer Honors Institute (SHI) changed everything for Deaquan Nichols, a biophysical chemistry major from Roanoke, VA. Originally committed to Princeton as a junior in high school, Deaquan never gave serious consideration to JMU until he participated in the SHI. However, "every day on campus, I felt like I belonged and as a minority student that is hard to find," he recalls. Through this weeklong program where he attended classes and met Honors faculty members, the SHI cemented Deaquan's desire to attend JMU.
Now as a student, "I get a sense of home here. I feel like wherever I go, someone has my back," says Deaquan. Deaquan has also found a home within the Honors College. He chose Honors "because it's a tight-knit family within a big community." He felt welcomed into Honors because "every faculty member in Honors tries to build a personal relationship with each student." Currently, Deaquan is a member of Honors Ambassadors. By reaching out to potential and incoming Honors students, he helps provide them with the same sense of home that he felt during the SHI. He emphasizes, "you are never really alone in the Honors College." Deaquan continues to be an integral element of the Honors community through this continued connection to faculty and drive to better the community.
In addition to his participation in Honors Ambassadors, Deaquan is a player on the JMU football team, a founder of the JMU chapter of the National Organization for the Professional Advancement of Black Chemists and Chemical Engineers (NOBCCHE), treasurer for NAACP, and a member of the Diversity, Equity, and Inclusion Council in the Honors College. Although he is unsure if he will continue to play football because of his dedication to his studies and other extracurricular involvement, he says he has had "amazing experiences both athletically and academically." Through his participation in his organizations, Deaquan hopes to leave an impact on campus. He said, "I am a strong believer in equity for all people." His involvement on campus will help him "be a catalyst in change. Being a part of NOBCCHE is focused on the uplifting of minorities in any of the STEM fields and [he thinks] that's a very powerful thing."
Deaquan is also making his mark within the classroom. Working alongside Professor Oleksandr Kokhan, he has been conducting research on proteins since late in his senior year of high school. Deaquan plans to present his research this semester at the Honors Symposium and in several conferences in the upcoming year. He also hopes that his research will become a part of his Honors capstone project as he continues to develop his understanding of the subject. Both inside and outside the lab, Deaquan is making his mark on campus.