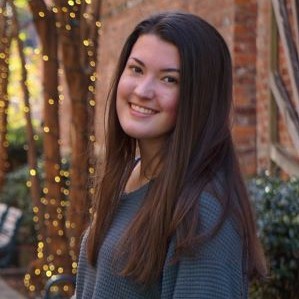 During high school, Lilly Bennett was the friend her peers would turn to whenever a big paper was due. Curious about editing as a career, she was happy to help them with whatever they needed. Now, Lilly—a Sophomore Health Sciences major with minors in Honors, Pre-Occupational Therapy, and Writing, Rhetoric and Technical Communication —has turned her editing interest into an exciting opportunity.  
In January, Dr. Davis, the Director of Student Engagement in the Honors College, emailed students about an editorial position with the National Collegiate Honors Council (NCHC). Lilly immediately jumped on the opportunity, earning the JMU Honors College's nomination to work on the NCHC Journal of Undergraduate Research & Creative Activity (UReCA). Grateful for the help of Honors faculty throughout the application process, Lilly explains, "I love having people on my team rooting for me … Honors is like my second family."  
The big news came in May: Lilly got accepted for the position of Associate Editor for the student-run journal. Working with a "team based all over the country," Lilly has been hard at work with her editorial team to screen and evaluate a variety of submissions. With three associate editors on each piece, Lilly collaborates and provides feedback on the publishing possibility of each manuscript.  
To train for the position, Lilly spent four days in Montana to learn about her responsibilities, build relationships through team building activities, and participate in editing workshops. There, Lilly reviewed the screening criteria and the UReCA publication process. Plus, she even got to take a trip to Yellowstone National Park to better connect with her fellow student editors. Working throughout the summer, Lilly has provided feedback on a variety of STEM and humanities pieces. She specifies, "I love the humanities because the area is so broad."  
Lilly has recently wrapped her responsibilities and looks forward to seeing the physical copy of the journal come to life. Available in November, Lilly will travel to Dallas for the release of UReCA at the National Collegiate Honors Council Conference. She states, "I'm really excited to see how I helped with the journal and see it in its physical form." All her efforts to produce a physical form of the journal is a direct marker of her dedication and hard work.  
Throughout the entire process, Lilly emphasized how this experience "would not be possible without the Honors College, and [she is] really appreciative of them." From providing funding to professional feedback, Honors has supported Lilly along the way because of her willingness to explore new opportunities. Although she still helps edit her friends' essays, she has truly had a lasting impact on UReCA and the Honors College.