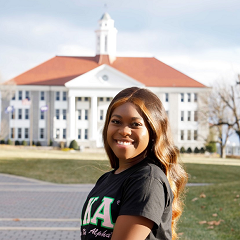 Belinda's Story
Every Honors Student creates a unique and personal path for themselves within the Honors College, and Belinda Addae is no exception. Bilingual in Twi and English, the Senior Intelligence Analysis Major with a minor in Political Science and Honors on a Pre-Law track has dedicated herself to the goal of being an immigration lawyer. Belinda studies the differences between immigration courts and regular courts and how the  different laws and decisions of the Supreme Court impact those applying for immigration, with a special focus on black immigration, which receives less resources, aid, and media attention. "When we think of [black immigration], sadly, we think only of the Hispanic or Latinx community, but there are people who look like me going through immigration issues, but we're kind of invisible in that space". The issue is deeply personal to Belinda, herself an immigrant from Ghana and a five-year DACA recipient. 
As one of the first few seniors to do their capstone through the new Senior Portfolio process, Belinda has been tasked with identifying and presenting artifacts that represent the journey of her JMU career, as well as writing a paper to go alongside to demonstrate how these artifacts interact. Her focus on immigration has led to her conducting interviews with those in the Harrisonburg community to learn about what elements of society have shaped their views, as well as reviewing numerous immigration cases and speaking with various refugees on how their process through immigration and integration has impacted their lives. "The capstone was the perfect way to encapsulate my life and how that's affected me being at JMU and the things that I do [at JMU]," she explains. "My big picture is immigration - making it real for people who don't understand it." 
This passion to aid others extends to her involvement with JMU's Summer Honors Institute, a program for high school students that allows them to get a glimpse of college life. Belinda attended the summer prior to her senior year, an experience which she credits to changing the trajectory of her life. "It really changed my perspective on how hard I have to work to get the things that I want", she remembers. "I got to see the JMU community, Harrisonburg...without that program I would not be here at JMU, 100%."  The exposure to Honors level work not only pushed her to apply to JMU - a choice made at the top of Reddish Knob - but to involve herself in the Honors College as well. It was also that week another student pushed her to apply for DACA, another major decision that "changed [her] life". Belinda served as a counselor for the institute for the next two years, guiding and inspiring students to make the same decision she did. On the experience, Belinda says that, "it's amazing to see all these bright-minded students come and explore college. You can just see them thinking about things and growing in that - actively seeing how things are clicking for them - but more importantly them seeing, 'I can do this'". 
As a Track I student, Belinda hit the ground running in Honors. As a HON 100 teaching fellow for Dr. Alysia Davis and Jared Diener, she gained her first exposure to facilitating and public speaking, invaluable for the law career ahead of her. The opportunity also led her to becoming a Leadership Consultant for the Student Leadership Center, a center dedicated to teaching students to be better leaders through workshops, personality assessments, and more. Belinda's mission at the SLC is simple: "We're there to teach students to be the best leaders they can be." It's clear that the lessons of the center have made their impact on Belinda herself, a leader both on campus and within the Honors College. 
Of course, like many, Honors is far from Belina's only commitment. Aside from working for the Student Leadership Center, she's also President of the African Student Organization (ASO), serving with the goal to "make the JMU campus and Harrisonburg community more aware of the African Diaspora" through the arts. Prior to becoming President, Belida acted as the Social Media Chair and Events Coordinator, coordinating events such as the Taste of Africa, an event that offers a holistic view of African culture, fashion, food, and more to the general student body. (The event is being held virtually on April 18th.) Highlights include a fashion show and performance from the dance team, which Belinda is part of. Belinda is also a proud member of Student Ambassadors, giving tours and connecting with prospective students to encourage them that making the commitment to JMU - and college in general - is possible. In addition, she is a member of Alpha Kappa Alpha, the first historically black sorority.  
Written by Anna Christensen ('22)