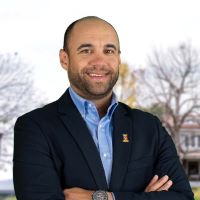 John Wesley Lee II is the Assessment Specialist and Doctoral Assistant for the James Madison University Honors College.
John began work as the assessment specialist and doctoral assistant for the Honors College in the Fall of 2022. John came to the Honors College after being recognized for high performance as a doctoral assistant within JMU's Center for Assessment and Research Studies (CARS) during the 2021-2022 academic year. John is a former commissioned officer in the United States Armed Forces and was awarded the distinguished Coast Guard Commendation Medal in 2018. John has two peer reviewed journal articles in progress;  "Solving Complex Problems at Scale; Qualitative analysis of Interviews with Senior Executives" and "The Video Enhanced Rubric: Design, Implementation, and Analysis", with anticipated publication in the winter of 2022. John has recently served as the special assistant to the Vice President of Student Affairs, where he led strategic planning efforts for military connected students at JMU.
John earned a Bachelor of Science Degree in Psychology from the College of Charleston, Charleston, SC, where he worked with Dr. Michael Marcel in the cognitive neuroscience laboratory. While on active duty, John earned a Master of Science Degree in Industrial/Organizational Psychology from Southern New Hampshire University, Manchester, NH. John's master's thesis explores the impact of survey administration methods on survey data. Most recently, John completed over 20 hours of doctoral course work in assessment and measurement here at James Madison University, maintaining a 4.0 GPA. John is also a Doctor of Philosophy student in the Strategic Leadership Studies program at JMU where he is researching the role of assessment in leading large scale organizational change within the department of defense and department of homeland security. John has conducted program evaluation for over 120 large academic degree programs and has a passion for organizational development consulting.
John is a native of Virginia, and graduate of John Handley High School in Winchester. John Lives in Luray with his wife and two sons, enjoys the outdoors, spending time with his family, and traveling. His website is www.johnwlee.com.