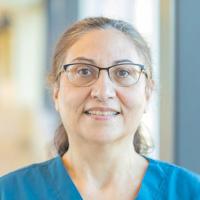 BS – University of Iowa, Iowa City, IA
MD – University of Iowa Hospitals and Clinics, Iowa City, IA
Residency – Family Practice at University of IA, board certified in family practice
Mouline has worked at JMU Health Center since 1998 and has gained valuable experience in college health throughout the years. Her goal is to provide the best medical care for JMU students in order for them to feel better and stay healthy.
She is also on the HOPE team for students with eating disorders. The HOPE team supports students in recovery from an eating disorder to stay in recovery while they are getting their education.
In her free time, Mouline enjoys spending time with family and friends.
"Your living is determined not so much by what life brings to you as by the attitude you bring to life; not so much by what happens to you as by the way your mind looks at what happens." – Khalil Gibran