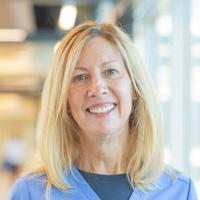 BSN – VCU/MCV
NP – VCU/MCV 
Barbara attended JMU for two years before transferring to VCU/MCV to obtain her BS in Nursing, and later her MS in Nursing (NP). Her initial plan for her career was to work in a family practice, but found her niche in college health and never looked back. She has called JMU "home" for many years.
Barbara has a strong passion for prevention of illness and education of students. She knows the true value of helping students manage their health concerns, and says that giving specific recommendations for self-care is an important aspect of this.
In her free time, Barbara enjoys spending time with her husband, her two college-aged children, and their golden retriever. She loves to walk, hike, practice yoga and read. Barbara is also a fan of college sports and has season tickets to JMU Women's Basketball games.