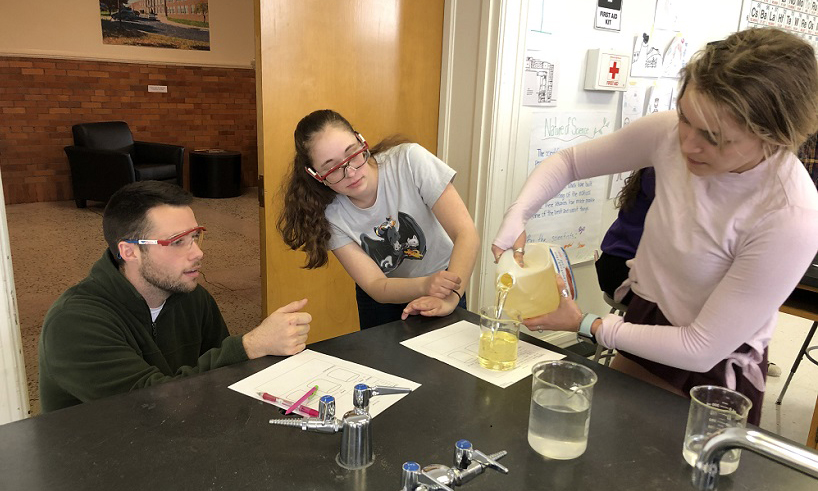 Degree Offered
Master of Arts in Teaching (M.A.T.) in Education, concentration in Secondary Education
The second part of a dual-degree program for JMU students who want to earn their bachelor and master's degree and teach grades 6-12. For more than a century, JMU has prepared highly qualified licensed professionals through our outstanding teacher preparation programs.
Description
The Master of Arts in Teaching (M.A.T.) in Education with a concentration in Secondary Education degree emphasizes the preparation of effective and reflective teachers who are knowledgeable in the content they are preparing to teach and cognizant of the characteristics of adolescents, ages 12-18. The areas in which individuals may be licensed include English, mathematics, biology, chemistry, earth and space science, physics, and history and social sciences (includes licensure to teach history, economics, geography and political science).
This M.A.T. pathway is the second stage of the "Double Duke" Secondary Education licensure program and is available only to current undergraduate students majoring in one of the licensure areas listed above.  Students who are not JMU undergraduate students who are enrolled in secondary education programs should consider our master's degree that leads to initial licensure in secondary education. Undergraduate candidates planning to teach at the secondary level (grades 6-12) should contact the Middle, Secondary, and Mathematics Department (www.jmu.edu/coe/msme/) for more information and to meet with an education advisor to ensure completion of the required pre-professional Secondary Education minor. A specific arts and sciences major or equivalent course work and experiences may be required for admission to some programs of the M.A.T. and for licensure to teach in certain disciplines and grade levels. Candidates should check with their advisor frequently to be apprised of changes in the offerings and requirements listed that may affect them.
The three graduate semesters of this licensure program builds on the extensive foundational course work and experiences candidates completed in their undergraduate program. Candidates will have completed the prescribed course work to develop the knowledge, skills, attitudes and behaviors needed for successful completion of the M.A.T.
Candidates interested in the requirements for the M.A.T. program with a concentration in physical and health education (PreK-12) should refer to the description for that program in the Department of Kinesiology. Candidates interested in the requirements for the secondary licensure program with a concentration in foreign languages should refer to the description for that program in Department of Foreign Languages, Literatures and Cultures in the undergraduate catalog.