We believe an important part of success is caring about others and about your community. Our faculty are active with non-profits and charitable organizations in the community, and they often lead opportunities for students to become involved as well. Read about some of their recent projects: 
Susan Palocsay
The College of Business's Distinguished Service Award for 2022 goes to Susan Palocsay, professor of computer information systems and data analytics. Dr. Palocsay has devoted more than 30 years of her career to JMU and the CoB. She is credited with having done much during her long and eventful tenure to elevate the prominence of data analytics as a business tool and academic discipline.
Bill Ritchie
Professor of management Bill Ritchie serves as faculty advisor of JMU's Supply Chain Club. The Congo Ebola Medical Relief project is the club's humanitarian project that has been running since fall 2019 has been selected as a winner for the SBAA Societal Impact Award. Bill and his students have shipped five 40' high-cube cargo containers filled with medical supplies to Africa—the most recent two were picked up in November.
Bill traveled to St. Petersburg, FL, to present the Supply Chain Club's project at the SBAA Annual Meeting.
William Wood
William Wood, professor of economics, was recently named recipient of the J. Curtis Hall Award. Given since 1988 by the Virginia Council on Economic Education, the award recognizes a community leader who has devoted a significant amount of time and energy to the cause of economic literacy in Virginia schools. 
As AUH and professor of economics, Bill has also served for more than 30 years as director of the Center for Economic Education, during which time he coached K-12 teachers on how to provide their students with engaging and interactive lesson plans and activities.
Ron Rubin
Finance professor Ron Rubin serves as the faculty advisor for the Financial Management Association (FMA) student organization. In 2021, the JMU chapter celebrated its seventh year of being designated a Superior Chapter, an award given to less than 10% of chapters worldwide.
Founded in 1970, the FMA is an international professional organization of financial executives, analysts, professors and students and a global leader in developing and disseminating knowledge about financial decision making. They are currently the largest finance organization devoted to bridging the gap between finance theory and practice.
Molly Brown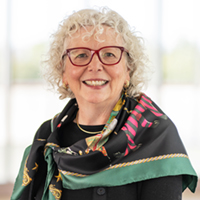 Associate Dean of Undergraduate Programs Molly Brown was named Beta Gamma Sigma 2021 Chapter Advisor of the Year. The BGS Chapter Awards Committee selected her based on her ongoing commitment to and support of the students and the JMU BGS chapter. Molly took over as advisor starting in 2014, and the chapter has been named a Highest Honors Chapter every year since.
Alexander Gabbin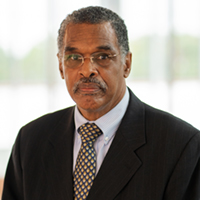 Professor and director of the School of Accounting Alex Gabbin was interviewed as part of a celebration of the origin of the National Black MBA Association (NBMBAA), now 50 years old, which was co-founded by Gabbin and two other University of Chicago Booth students. The group now has 20,000 members in 39 chapters coast to coast, and provided $1 million in scholarships to members in 2019.
The only surviving organizer of the 1970 conference, Gabbin hosted a virtual reunion on April 3, 2020 after the scheduled luncheon had to be cancelled due to the pandemic.
You can read the interview here: https://www.chicagobooth.edu/magazine/nbmbaa-founding-members?sc_lang=en