We believe an important part of success is caring about others and about your community. Our faculty are active with non-profits and charitable organizations in the community, and they often lead opportunities for students to become involved as well. Read about some of their recent projects: 
Dr. Alexander Gabbin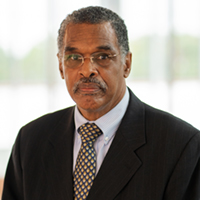 Professor and director of the School of Accounting Alex Gabbin was interviewed as part of a celebration of the origin of the National Black MBA Association (NBMBAA), now 50 years old, which was co-founded by Gabbin and two other University of Chicago Booth students. The group now has 20,000 members in 39 chapters coast to coast, and provided $1 million in scholarships to members in 2019.
The only surviving organizer of the 1970 conference, Gabbin hosted a virtual reunion on April 3, 2020 after the scheduled luncheon had to be cancelled due to the pandemic.
You can read the interview here: https://www.chicagobooth.edu/magazine/nbmbaa-founding-members?sc_lang=en
Dr. Jeffrey May & Mr. Shawn Lough
The JMU chapter of AIS was recognized for Outstanding Community Service for the 2018-2019 year, after their work on the JMU DIGITAL and CyberDay events. AIS is the premier professional association for individuals and organizations who lead the research, teaching, practice and study of information systems worldwide. Jeff May was the faculty advisor during the 2018-2019 academic year, and Shawn Lough has served as advisor since 2019.
Dr. Sandra Cereola
Congratulations to professor of accounting and Johnson Lambert Faculty Scholar Sandra Cereola, who is the recipient of a 2019 Outstanding Faculty Advisor Award from Beta Alpha Psi, the international honor society for accounting, finance and information systems students at AACSB institutions. This year the award was bestowed to only six of the over 300 faculty advisors worldwide, which puts Cereola in quite an exclusive group. JMU's Beta Alpha Psi chapter has distinguished itself in its more than 20-year existence and this is further proof of its exceptional nature. 
Dr. Barkley Rosser
Congratulations to president-elect Barkley Rosser! The professor of economics and international business was recently elected as President of the Society for Chaos Theory in Psychology and the Life Sciences (SCTPLS). His nomination and subsequent election occurred during the business portion of the 29th annual SCTPLS conference held in Orange, Ca. in August. The SCTPLS website can be found at https://www.societyforchaostheory.org/home/
Nancy Nichols
After recent elections by the American Accounting Association, Nancy Nichols will be serving as Council Chair-Elect. The Council's role is both advisory and decision-making, advising the Board of Directors on certain matters and making organizational decisions on other matters. Congratulations Nancy!
Ruari Walsh & Angela Heavey
Congratulations to faculty co-advisors Ruairi Walsh and Angela Heavey, as well as the students on the JMU SHRM Executive Board leadership team as their chapter was awarded the SHRM Merit Award for the fourth year in a row. The award is given to chapters for "providing superior growth and development opportunities to its student chapter members." The awards themselves were created in 1972, and were conceived to "require ongoing excellence in the following areas: student chapter requirements, chapter operations, chapter programming and professional development of members, support of the human resource profession and SHRM engagement." More great news for SHRM at JMU!
FMA earns Superior Chapter Award
Advised by Ron Rubin, JMU's chapter of Financial Management Association (FMA) has earned the FMA Superior Chapter Award for the 2018-2019 academic year! This group of students had to meet a number of specific criteria, demonstrate exemplary chapter management, and excel in providing members with program activities to receive this highly coveted designation which is awarded to less than ten percent of the 175+ chapters.
Long-time college of business professor receives special award
Professor of accounting and of hospitality Brad Roof was chosen to receive the JMU All Together One award. Roof and four other honorees were celebrated for engaging and building community and inspiring others, as well as their caring attitude, dedication to learning and commitment to working together. The event was created in 2000 by members of the JMU Circle of Omicron Delta Kappa, the National Leadership Honor Society. Each spring, students, faculty and staff are invited to nominate members of the community who exemplify this special spirit of "all together one."