We believe an important part of success is caring about others and your community. Our faculty are active with nonprofits and charitable organizations in the community, and they often lead students to become involved as well. Read about some of their recent projects:
Joe Derby
Assistant Professor of Marketing, Joe Derby, traveled to Los Angeles to Loyola Marymount University with four CoB students to participate in the International Business Ethics and Sustainability Case Competition.
Joe served as the team's advisor and coach, providing students with competition information, offering feedback for their business case ideas and giving advice on presentation content and delivery. As an Ethical Reasoning in Action Fellow, Joe also assisted the student team with the reasoning process behind ethical decision making.
Of the three rounds of competition, JMU was named the winner of the 10-minute and the 90-second case competitions, and finished as a runner up in the 25-minute competition.
John Kruggel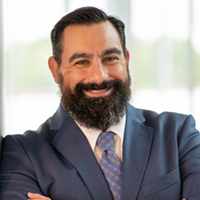 Director of the Center for Economic Education and Lecturer of Economics, John Kruggel, was recognized at the National Association of Economic Educators conference as this year's Rising Star.
Kruggel has been serving the CEE since 2018 when he joined JMU as the center's assistant director. In 2022, he became the director for the center, a testament to his early-career dedication to economic education. 
The Rising Star Award encourages and recognizes an individual who has made extraordinary contributions to economic education programs and demonstrates the dedication and potential to be a strong leader in the future.
Amy Connolly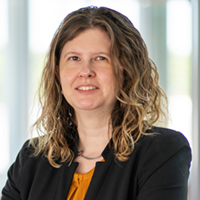 Amy Connolly, assistant professor of CIS/BSAN, was recently the recipient of two service awards.
From the Association for Information Systems Special Interest Group Social Inclusion, Connolly received the organization's first "Outstanding Service Award."
She was also named "Best Associate Editor" for the ICIS Track "Societal Impact of Information Systems." The award recognized her efforts recruiting reviewers for conference papers in the track. AEs perform an important function in building the conference program and providing constructive feedback to authors to improve their research.
Bill Ritchie
Professor of management Bill Ritchie serves as faculty advisor of JMU's Supply Chain Club. The Congo Ebola Medical Relief project is the club's humanitarian project that has been running since fall 2019 has been selected as a winner for the SBAA Societal Impact Award. Bill and his students have shipped five 40' high-cube cargo containers filled with medical supplies to Africa—the most recent two were picked up in November.
Bill traveled to St. Petersburg, FL, to present the Supply Chain Club's project at the SBAA Annual Meeting.
Ron Rubin
Finance professor Ron Rubin serves as the faculty advisor for the Financial Management Association (FMA) student organization. In 2021, the JMU chapter celebrated its seventh year of being designated a Superior Chapter, an award given to less than 10% of chapters worldwide.
Founded in 1970, the FMA is an international professional organization of financial executives, analysts, professors and students and a global leader in developing and disseminating knowledge about financial decision making. They are currently the largest finance organization devoted to bridging the gap between finance theory and practice.
Molly Brown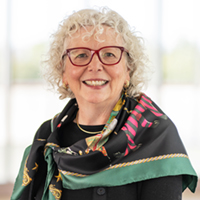 Associate Dean of Undergraduate Programs Molly Brown was named Beta Gamma Sigma 2021 Chapter Advisor of the Year. The BGS Chapter Awards Committee selected her based on her ongoing commitment to and support of the students and the JMU BGS chapter. Molly took over as advisor starting in 2014, and the chapter has been named a Highest Honors Chapter every year since.