CoB - Faculty - Research & Professional Engagement
By engaging in research and professional projects, our faculty stay up to date with the latest developments and best practices in their disciplines. They incorporate their expertise in the classroom to help students develop the professional skills that will make them competitive in graduate school or in the job market. Take a look at some of our faculty members' most recent accomplishments:
Dr. Laura Leduc
Belated congratulations to management unit head Laura Leduc, who was chosen as an Outstanding Reviewer for Journal of Managerial Psychology in their 2019 Emerald Literati Awards. Leduc was selected by the editorial team based on her contribution to the journal in 2018. For over 25 years the Emerald Literati Awards have celebrated and rewarded the outstanding contributions of authors and reviewers to scholarly research. 
All the Emerald Literati Award winning papers and reviewers can be found on the Literati awards page.
Dr. Charles Bailey
Accounting professor Charles Bailey recently published a paper titled "The joint effects of narcissism and psychopathy on accounting students' attitudes towards unethical professional practices" in The Journal of Accounting Education.
It examines the first broad sample of narcissism of US accounting majors and the joint effects of narcissism and psychopathy in determining attitudes about unethical practices. One encouraging conclusion is that accounting majors are quite low on narcissism as well as psychopathy.
The Journal of Accounting Education was first published by the JMU School of Accounting, under the editorship of Ralph Benke and Ken St. Pierre in early 1980s. The SOA was an early leader in promoting the value of academic scholarship in the area of accounting education.
Dr. Amy Connolly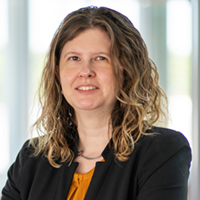 Congratulations twice over to CIS/BSAN professor Amy Connolly! Her paper titled "User response to mandatory IT use: a coping theory perspective," published in 2018 in the European Journal of Information Systems, was selected to receive the Operational Research Society's Stafford Beer Medal for 2019. Named for a British theorist, consultant and professor at the Manchester Business School, the medal is awarded in recognition of the most outstanding contribution to the philosophy, theory or practice of Information Systems published in the European Journal of Information Systems (EJIS) within the relevant year. The award was presented in the Society's annual Awards Ceremony, held in London on Nov. 27.
Dr. Andy Wood
Marketing professor Andy Wood has been named a faculty fellow for RNMKRS (rainmakers), an organization whose mission is to improve sales training by using artificial intelligence and technological innovation along with advanced communications.
RNMKRS recently hosted the first (online) Virtual National Sales Competition. Wood and the other fellows spent the summer in a series of online seminars helping to develop the responses and logic tree for the artificial intelligence that was used in the competition.
Some 1500 students participated in the competition, with four JMU CoB students landing in the top 3% of their respective age/experience groups. Congratulations to Andy Wood on his innovative efforts!
Dr. David Fordham and Dr. Carol Hamilton
Congratulations are in order for a cross-discipline partnership that resulted in a publication. Professor of accounting David Fordham and management lecturer Carol Hamilton have recently published an article in the prestigious Journal of Information Systems published by the American Accounting Association. Titled "Accounting information technology in small businesses: An inquiry," it addresses the prevalence of computerized accounting information technology in the U.S. small business environment. While academic literature gives the impression that small businesses have widely adopted computerized accounting systems, their study of over 1600 small businesses finds that isn't necessarily the case.  
You can read more about it, here.
Dr. Elham Torabi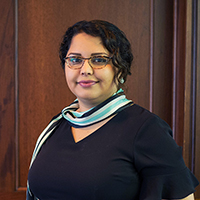 CIS/BSAN professor Elham Torabi is part of a team undertaking a statewide call to help evaluate Medicaid in an effort to reduce and prevent Medicaid fraud in Virginia.
Torabi and her team applied for and received a 4VA grant, which they used to demonstrate feasibility. That part was a success and the state has agreed to share the data necessary to complete the project, so the group is now in search of further grants to allow it to fully undertake its research and develop a software system that will seek to prevent the fraud before it happens. Since the state currently ends up dealing with the fraud after it has occurred, the change in process could result in a substantial savings for the Medicaid program.
Dr. Mike Mitri
CIS/BSAN professor Mike Mitri has developed a fascinating analysis software system with some help from student Kenny Nguyen in the Research Experience for Undergraduates program.
Mitri's Story Analyzer software uses AI, natural language processing and data visualization to read the text of a story narrative and produce a dashboard that helps users visualize, identify and understand the main characters, interactions, places, times and themes of the story. He has created examples online using official documents and transcripts from some very current political news items: the Mueller report, the 'Whistleblower complaint,' Kurt Volker's recent testimony to congress, Marie Yovanovitch's opening statement to congress and Gordon Sondland's opening statement to congress.
Nguyen recently presented observations on his experiences in the REU and role in the collaboration at the 21st Annual Mid-Atlantic Regional Conference of Undergraduate Scholarship (MARCUS) at Randolph College.
Learn more about the MARCUS 2019 program
Mitri's link: www.storyanalyzer.org
Dr. Vipul Bhatt
According to research that professor of economics Vipul Bhatt recently published in the Oxford Bulletin of Economics and Statistics, consumption is as much a psychological phenomenon as it is an economic one. Co-written with N. Kundan Kishor (professor of economics at the University of Wisconsin-Milwaukee) and Hardik Marfatia (professor of economics at Northeastern Illinois University, Chicago), the article points out that traditional economic models tend to understate how much consumer spending varies when income changes, and how such behavior interacts with consumption habits. The results of the research improve on the existing methodology for estimating the share of 'rule-of-thumb' consumers by proposing a novel way of predicting disposable income growth and its effect on consumption growth.
Spend some time reading up on it here: https://onlinelibrary.wiley.com/doi/full/10.1111/obes.12333