CoB - Faculty - Research & Professional Engagement
By engaging in research and professional projects, our faculty stay up to date with the latest developments and best practices in their disciplines. They incorporate their expertise in the classroom to help students develop the professional skills that will make them competitive in graduate school or in the job market. Take a look at some of our faculty members' most recent accomplishments:
Sergiy Dmytriyev
Sergiy Dmytriyev, assistant professor of management, is co-editor of a new book titled Humanizing Business: What Humanities Can Say to Business.
The book is part of the highly regarded "Issues in Business Ethics" series published by Springer, and includes contributions from leading business scholars from around the world. It explores how creative pursuits ranging from philosophy to filmmaking can help make business more humane. 
Paul Copley
Paul Copley, professor of accounting and RSM Faculty Scholar, has received the Enduring Lifetime Contribution Award for 2020-21 from the Government and Nonprofit Section of the American Accounting Association, the organization of academic accountants.
The award recognizes Copley's exemplary service, over the course of his long career, to accounting education and research in the section and was recently presented at a luncheon in Washington, D.C. 
Marshall Pattie
Marshall Pattie, professor of management, has been named the College of Business's Madison Scholar for 2022. Against the backdrop of increasing globalism, Dr. Pattie has assembled an impressive and frequently cited body of work on expatriate management and ethics.
Kelly Nalatelech
Kelly Nalatelech, whose paper "Relative vices and absolute virtues: How size labeling affects size preferences for vices and virtues" (co-authored with Seth Ketron of the University of North Texas) appears in the January 2022 edition of the Journal of Business Research. The paper examines the influence of size labeling, whether expressed in absolute or relative terms, on consumer behavior. Nalatelech is an assistant professor in the CoB's department of Marketing.
Janna Parker
Marketing professor Janna Parker is the 2021 recipient of the Academy of Marketing Science's (AMS) Harold and Muriel Berkman Faculty Achievement and Development Award. The award recognizes dedicated service, commitment and enthusiasm to AMS, which Parker has demonstrated since she was a doctoral student, working at the conference registration desk in 2012. From there, she remained actively engaged by serving as VP of Development, VP of Engagement, and Track Chair for three conferences. In addition, her work was instrumental in establishing continuing education and certificate programs within AMS.
Amy Connolly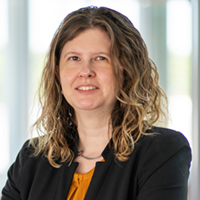 CIS professor Amy Connolly was recently awarded Best Paper for 2020 by the Journal of Information Systems Education. Recognized for its contribution to IS pedagogy theory, contribution to practice in the IS classroom, uniqueness and originality of ideas and quality of writing, the co-authored work is titled "An Agile Framework for Teaching with Scrum in the IT Project Management Classroom."
The paper presents a framework for teaching a complete, semester-long IT project management course in Scrum without losing any of the traditional PMI-based content. This group-based, iterative and hands-on approach equips students to better internalize and understand the complex social interactions involved with a self-organizing team, concepts that are difficult to learn without first-hand experience.
The paper is available on the JISE website.