CoB - Faculty - Research & Professional Engagement
By engaging in research and professional projects, our faculty stay up to date with the latest developments and best practices in their disciplines. They incorporate their expertise in the classroom to help students develop the professional skills that will make them competitive in graduate school or in the job market. Take a look at some of our faculty members' most recent accomplishments:
Dr. Ali Shahzad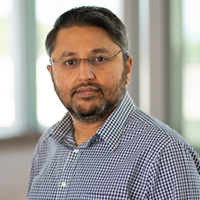 Professor of management Ali Shahzad, recently joined the editorial review board of the journal Business & Society. Since 1960, Business & Society has committed itself to publishing high-quality research that examines the issues and topics that interconnect business and societal concerns. In 2018, the journal's Impact Factor exceeded 5.0, ranking it as a top 20 journal in the Business category.
Dr. Zachary Gochenour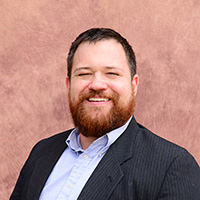 Economics professor Zachary Gochenour recently published a paper in the Journal of Private Enterprise. Co-written with Christopher Fleming of George Mason University and titled "Self-government, political economy, and the christian tradition." It develops a theory of self-government that is specifically Christian, then explores how different schools of thought in social science can further the understanding of this conception, looking deeply at classical public choice in the Virginia school, behavioral public choice and new institutional economics, specifically in the tradition of the Bloomington school. It then discusses how these traditions reveal inherent incompatibilities between the liberal democratic view of self-government and the Christian view, but also how insights from these fields might lead us to more effective self-governance strategies.
Dr. Pamela Drake
Finance professor Pamela Drake, was recently quoted in the Chronicle of Higher Education in an article by Alexander C. Kafka titled "Why More Colleges Are Teaching Financial Wellness." Drake is quoted as she draws on her many years of experience as a teacher to address the issue of financial literacy among current college students. It seems now more than ever, students need to learn financial wellness skills.
Dr. Zachary Collier
Zachary Collier, professor in CIS/BSAN, was recently elected president of the Decision Analysis and Risk Specialty Group of the Society for Risk Analysis. Over the next one-year term as president, he will work within the Society for Risk Analysis, and with other professional societies, to organize and co-sponsor events and webinars related to the field of decision analysis. 
Dr. Laura Leduc
Belated congratulations to management unit head Laura Leduc, who was chosen as an Outstanding Reviewer for Journal of Managerial Psychology in their 2019 Emerald Literati Awards. Leduc was selected by the editorial team based on her contribution to the journal in 2018. For over 25 years the Emerald Literati Awards have celebrated and rewarded the outstanding contributions of authors and reviewers to scholarly research. 
All the Emerald Literati Award winning papers and reviewers can be found on the Literati awards page.
Dr. Charles Bailey
Accounting professor Charles Bailey recently published a paper titled "The joint effects of narcissism and psychopathy on accounting students' attitudes towards unethical professional practices" in The Journal of Accounting Education.
It examines the first broad sample of narcissism of US accounting majors and the joint effects of narcissism and psychopathy in determining attitudes about unethical practices. One encouraging conclusion is that accounting majors are quite low on narcissism as well as psychopathy.
The Journal of Accounting Education was first published by the JMU School of Accounting, under the editorship of Ralph Benke and Ken St. Pierre in early 1980s. The SOA was an early leader in promoting the value of academic scholarship in the area of accounting education.
Dr. Amy Connolly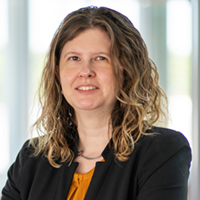 Congratulations twice over to CIS/BSAN professor Amy Connolly! Her paper titled "User response to mandatory IT use: a coping theory perspective," published in 2018 in the European Journal of Information Systems, was selected to receive the Operational Research Society's Stafford Beer Medal for 2019. Named for a British theorist, consultant and professor at the Manchester Business School, the medal is awarded in recognition of the most outstanding contribution to the philosophy, theory or practice of Information Systems published in the European Journal of Information Systems (EJIS) within the relevant year. The award was presented in the Society's annual Awards Ceremony, held in London on Nov. 27.
Dr. Andy Wood
Marketing professor Andy Wood has been named a faculty fellow for RNMKRS (rainmakers), an organization whose mission is to improve sales training by using artificial intelligence and technological innovation along with advanced communications.
RNMKRS recently hosted the first (online) Virtual National Sales Competition. Wood and the other fellows spent the summer in a series of online seminars helping to develop the responses and logic tree for the artificial intelligence that was used in the competition.
Some 1500 students participated in the competition, with four JMU CoB students landing in the top 3% of their respective age/experience groups. Congratulations to Andy Wood on his innovative efforts!