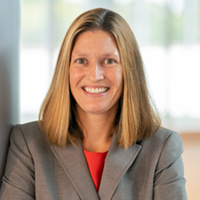 Areas of Expertise
Data Analytics
Technology
Corporate Fraud
Financial Statement Auditing
ESG Reporting
Education
Ph.D., Business, Accounting, Virginia Tech - July 2014
Master of Accounting and Information Systems, Virginia Tech - May 2013
Bachelor of Business Administration, James Madison University - December 2002
Positions Held
Assistant Professor, Northeastern University - August 2014 - June 2017
Manager, Assurance Business Advisory Services, PricewaterhouseCoopers, LLC - January 2003 - August 2010
Select Publications
Bhattacharjee, S., K. K. Moreno, and N.S. Wright. 2022 "The Impact of Client Response Time and Message Processing Fluency on Auditor Judgment." Auditing: A Journal of Practice and Theory Early Online: https://doi.org/10.2308/AJPT-2020-111 
Bhattacharjee, S., K. Moreno, and N.S. Wright. 2019. 'The Impact of Benchmark Set Composition on Auditors' Level 3 Fair Value Judgments.' The Accounting Review 94(6): 91-108.
Cunningham, L.M., C. Li, S.E. Stein, and N.S. Wright. 2019. "What's in a Name? Initial Evidence of U.S. Audit Partner Identification Using Difference-in-Differences Analyses." The Accounting Review. 94(5): 139-163.
Wright, N.S. and S. Bhattacharjee. 2018. "Auditors' Use of Formal Advice from Internal Firm Subject Matter Experts: The Impact of Advice Quality and Advice Awareness on Auditors' Judgments." Contemporary Accounting Research. 35(2): 980-1003.
Gimbar, C., J.G Jenkins, G. Saucedo, and N.S. Wright. 2018. "Shifting Styles: Do Auditor Performance Levels Influence the Review Process?" International Journal of Auditing. 22(3): 554-567.
Awards and Recognitions
Kenneth R. Bartee Award for Teaching Innovation - 2019
Deloitte Foundation Trueblood Seminar Co-chair - 2016-2017
Center of Audit Quality Access of Audit Personnel Program Award - 2015
Pamplin Graduate Student Teaching Award - 2014
Virginia Tech "Favorite Faculty!" Award - 2012