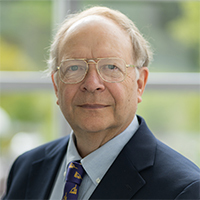 Teaching and Research Interests
Industrial organization

Public choice

Behavioral finance

Economic education
Education
Ph.D., University of Virginia, 1980

B.A., highest honors, Auburn University, 1974  
Positions Held
1989-2022, Professor of Economics and Director, Center for Economic Education, James Madison University

Staff writer, The Associated Press 
Select Publications
Wood, W. C., Schug, M. C., Niederjohn, M.S., Ferrarini, T.H. (2019). Economic Episodes in American History, Second Edition. Morristown, NJ: Wohl Publishing.
Wood, W. C. (2002). Getting a Grip on Your Money. Downers Grove, IL: InterVarsity Press.
Wood, W. C., O'Roark, J. B., DeLaCruz, L. M. (2013). A Threat-Response Model of Counter-Terrorism: Implications for Information Security. International Journal of Risk and Contingency Management, 2(4), 39-49.
O'Roark, J. B., Wood, W. C. (2011). Determinants of Congressional Minimum Wage Support:  The Role of Background and Education. Public Choice, 147(1-2), 209-225.
Wood, W. C. (2008). Subprime Lending and Social Justice: A Biblical Perspective. Journal of Markets and Morality, 11(2), 189-204.
Awards and Recognitions
Henry H. Villard Research Award, National Association of Economic Educators, 2016

The Princeton Review's Best 300 Professors, 2012
Distinguished Service Award, James Madison University College of Business, 2010-2011.
Distinguished Leadership Award for support of literacy in the central Shenandoah Valley, Skyline Literacy Coalition, 2007.
Best Paper Award, Journal of Private Enterprise. (2001).
Madison Scholar, James Madison University. (1997).
National Winner, Essay Competition in Entrepreneurship and Public Policy, Association of Private Enterprise Education and National Federation of Independent Business. (1994).
Clifford D. Spangler Award, Alpha Kappa Psi and the American Risk and Insurance Association. (1991).