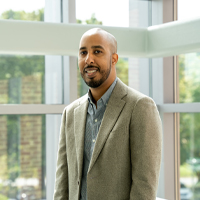 Education
Ph.D., Finance, Oklahoma State University

M.B.A., Finance, Texas Tech University

B.A., Economics, Texas Tech University
Select Publications
Usman, Adam. 'Cash holdings and real asset liquidity.' International Review of Financial Analysis 83 (2022): 102298.
Nejadmalayeri, Ali, and Adam Usman. 'Real asset liquidity, cash holdings, and the cost of corporate debt.' Global Finance Journal 53 (2022): 100720.
Jadiyappa, Nemiraja, Bhavik Parikh, Namrata Saikia, and Adam Usman. 'Social responsibility or smoke screening: evidence from India.' Sustainability Accounting, Management and Policy Journal 12, no. 4 (2021): 767-787.