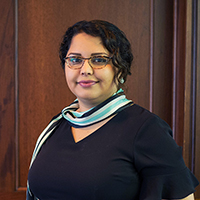 Research and Teaching Interests
Research:

Healthcare Analytics and Operations Management

Student engagement and motivation
Integration of Diversity, Equity and Inclusion in teaching practices
Education
Ph.D., Operations, Business Analytics and Information Systems, Lindner College of Business, University of Cincinnati - 2016 
Select Publications
Torabi, E., Vaziri, B., Connolly, A., (2022) "How to Apply Service Operations Management Principles to Improve Student Engagement and Satisfaction," Journal of Information Systems Education. Forthcoming in Fall 2022.
Vaziri, S., Vaziri, B., Novoa, L. J., & Torabi, E. (2022). Academic Motivation in Introductory Business Analytics Courses: A Bayesian Approach. INFORMS Transactions on Education, 22(2), 121-129.
Torabi, E., Cayirli, T., Froehle, C. M., Klassen, K. J., Magazine, M., White, D. L., & Ward, M. (2020). FASStR: A Framework for Ensuring High-Quality Operational Metrics in Healthcare. The American journal of managed care, 26(6), e172.
White, D., Torabi, E., Froehle, C.M., (2017) "Ice-Breaker vs. standalone: Comparing alternative workflow modes of mid-level care providers," Production and Operations Management, 26(11), 2089-2106.
Laker, L. F., Torabi, E., France, D. J., Froehle, C. M., Goldlust, E. J., Hoot, N. R., ... & Wears, R. L. (2017). Understanding Emergency Care Delivery through Computer Simulation Modeling. Academic Emergency Medicine;Aug 10; [Epub].