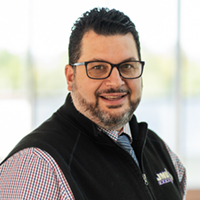 Professor, Marketing and MBA Programs; Global Supply Chain Management Minor, Program Co-coordinator; Kenneth R. Bartee Endowed Professor
tokmanmx@jmu.edu
Contact Info

Teaching & Research Interests
Interfirm relationships along the Value-Creation Chain
Strategic issues in international marketing channels and logistics
Education
Ph.D., The University of Alabama

M.B.A., University of Arkansas, Little Rock

B.B.A., University of Istanbul
Select Publications
Morgan, Tyler R., Mert Tokman, Robert Glenn Richey, and Cliff Defee, (2018) "Resource commitment and sustainability: a reverse logistics performance process model", International Journal of Physical Distribution & Logistics Management, 48(2), 164-182.
Tokman, Mert, R. Glenn Richey, and George D. Deitz (2016), "A Strategic Choice Theory Taxonomy of Retailers' Strategic Orientations" Journal of Marketing Theory and Practice – 24(2): 186-208.
Tokman, Mert, George D. Deitz, and R. Glenn Richey (2015), "An Empirically Derived Taxonomy of Manufacturer-Retailer Channel Structures" Journal of Marketing Channels – 22(4): 279-298.
Bahn, Kenneth, Kent Granzin, and Mert Tokman (2015), "End-user contribution to logistics value co-creation: A series of exploratory studies" Journal of Marketing Channels, 22(1): 3-26. (Lead article in this issue)
Tokman, Mert, R. Glenn Richey, Louis D. Marino, and Pat Dickson (2013), "SME Supply Chain Portfolios: Firm Satisfaction and Organization Resources," International Journal of Logistics Management, 24(2): 271-300. (Recipient of Emerald Publishing 2013 Highly Commanded Paper Award)
Awards and Recognitions
SCHEV Outstanding Faculty Award Nominee, 2018-2019
SCHEV Outstanding Faculty Award Nominee, 2017-2018
James Madison University, Provosts Award for Excellence in International Education, 2016-2017
JMU-College of Business, Madison Scholar Award, 2015-2016
AMS-Retailing Track – Best Paper Award, 2010
JMU-College of Business, Distinguished Service Award, 2009-2010
JMU-College of Business, Community Service Award, 2008
Service
Editorial Review Board Member, Industrial Marketing Management
Editorial Review Board Member, Journal of Marketing Channels
Editorial Review Board Member, Journal of Business Logistics
Editorial Review Board Member, Journal of Supply Chain Management
Editorial Review Board Member, International Journal of Physical Distribution and Logistics Management