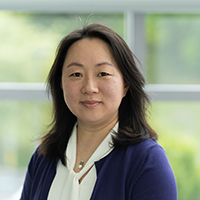 Academic Unit Head & Professor, Finance; Professor, International Business; J. Gray Ferguson Eminent Professor
sonohh@jmu.edu
Contact Info

Teaching & Research Interests
International Finance and Investments
Education
Ph.D.George Washington University
M.A. International Trade and Investment Policy, GWU
B.A. English and International Studies, China Foreign Affairs University
Positions Held
Associate Professor, James Madison University, 2014 - 2019

Assistant Professor, James Madison University, 2009 - 2014

Visiting Assistant Professor, James Madison University, 2008 - 2009
Select Publications
Schumann, Kathryn F., Semaan Elias and Hui Sono, (May 2019), "The local market perception of firm risks during cross-listing events," Financial Review, pp. 1-26.
Qingfeng Liu, Hui Sono and Athena Zhang, (2019), "Management Quality and Acquisition Performance: New Evidence Based on Firm Profitability", April 2019 , Journal of Corporate Accounting and Finance, 30: 44-63.
Qingfeng Liu and Hui Sono, (2016), "Empirical Properties, Information Flow, and Trading Strategies of China's Soybean Crush Spread," March 2016, Journal of Futures Markets, 36 (11), 1057-1075.
Jason Fink, Kriststen Fink and Hui Sono, (2013), "Stress Testing Portfolio-Specific Risk," Journal of Investment Management, 11 (4), 40-57.
Jaiwen Yang and Hui Sono, (2012), "Day and Night Returns of Chinese ADRs," Journal of Banking and Finance 36, 2795-2803.
Awards and Recognitions
Best Practitioner Publication Award, College of Business, JMU, 2014
Best Academic Publication Award, College of Business, JMU, 2013