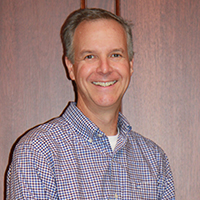 Research and Teaching Interests
Strategic Supply Chain Management
Supply Chain Quality Standards
Nonprofit Organization Performance Assessment
Geospatial (GIS) Analytics
Psychometric Scale Development/validation
Entrepreneurship 
Education
Ph.D. - Florida State University, Strategic Management, 2001, 

Support Area: Research Methods

M.B.A. - Florida State University, 1991, 

Concentration: International Management

B.S. - University of South Florida, 1987, 

Major: Finance
Positions Held
Associate Professor, Florida Gulf Coast University, 2001 – 2007
The Navigators, Kiev, Ukraine, 1996 – 1997, 
St. Pete College, Development Office, 1991 – 1996
Founder, Central Asian Resources Corp., 1991 – 1993
Commercial Credit Analyst, Barnett Bank of FL, 1988 – 1989
Northwestern Mutual Life, 1987 – 1988
Select Publications
Melnyk, S.A., Ritchie, W.J., Stark, E., & Heavey, A. (In Press). When a Dominant Certified Management Standard Is Replaced: Theoretical Insights from the American Hospital Field. International Journal of Operations and production Management. 
Ritchie, W.J., Kerski, J., Novoa, L., & Tokman, M. (In Press). Bridging the Gap between Supply Chain Management Curricula and Practice: The Case for Teaching Location Analytics. Decision Sciences Journal of Innovative Education. 
Kolodinsky, R., Ritchie, W.J., & Capar, N. (2022). Social Enterprise Legitimacy: Application of Accountability Mechanisms as a Multi-Institutional Context Strategy. Journal of Public and Nonprofit Affairs. 
Ritchie, W.J., Ni, J., Stark, E., & Melnyk, S.A. (2019). The Effectiveness of ISO 9001-based Healthcare Accreditation Surveyors and Standards on Hospital Performance Outcomes: A Balanced Scorecard Perspective. Quality Management Journal. 
Ritchie, W.J., Melnyk, S.A., & Ni, J. (2017). Environmental standard adoption in Marinas: A spatiotemporal analysis of a special form of maritime transportation hubs. Transportation Research Part D: Transport and Environment, Volume 55: 1-11.