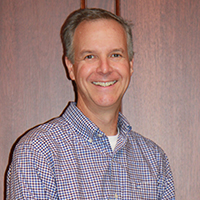 Areas of Expertise
Strategic Supply Chain Management
Supply Chain Quality Standards
Nonprofit Organization Performance Assessment
Geospatial (GIS) Analytics
Psychometric Scale Development/validation
Entrepreneurship 
Education
Ph.D. - Florida State University, Strategic Management, 2001, 

Support Area: Research Methods

M.B.A. - Florida State University, 1991, 

Concentration: International Management

B.S. - University of South Florida, 1987, 

Major: Finance
Positions Held
Associate Professor, Florida Gulf Coast University, 2001 – 2007
The Navigators, Kiev, Ukraine, 1996 – 1997, 
St. Pete College, Development Office, 1991 – 1996
Founder, Central Asian Resources Corp., 1991 – 1993
Commercial Credit Analyst, Barnett Bank of FL, 1988 – 1989
Northwestern Mutual Life, 1987 – 1988
Select Publications
Ritchie, W.J., Ni, J., Stark, E., & Melnyk, S.A. (2019). The Effectiveness of ISO 9001-based Healthcare Accreditation Surveyors and Standards on Hospital Performance Outcomes: A Balanced Scorecard Perspective. Quality Management Journal. 
Ritchie, W.J., Melnyk, S.A., & Ni, J. (2017). Environmental standard adoption in Marinas: A spatiotemporal analysis of a special form of maritime transportation hubs. Transportation Research Part D: Transport and Environment, Volume 55: 1-11.
Ni, J., Melnyk, S.A., Ritchie, W.J. & Flynn, B. (2016). Why Be First If It Doesn't Pay?: The Case of Early Adopters of C-TPAT Supply Chain Security Certification.  International Journal of Operations and Production Management, 36(10): 1161-1181.
Ritchie, W.J.; Young, G.; Shazaad, A.; Kolodinsky, R.; & Melnyk, S.A. (2015) The Influence of Plural organizational Forms on Beliefs and Outcomes Related to New Product Adoption. Management Decision Journal, 53(7): 1619-1641.
Melnyk, S.A.; Ritchie, W.J.; & Calentone, R. (2013). The Case of the C-TPAT Border Security Initiative: Assessing the Adoption/Persistence Decisions When Dealing With a Novel, Institutionally Driven Administrative Innovation. Journal of Business Logistics, 34(4): 289-300.