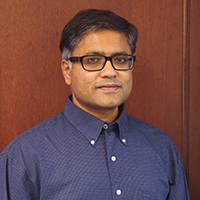 Areas of Expertise
Supply Chain Management & Logistics - Optimal Operational Policies under Uncertainty in Closed-Loop Supply Chain, Impact of RFID on Supply Chain Performance, Green Supply Chain, Humanitarian Operations
Project Management & IS/OM Interfaces - SCM Project Selection Best Practices, Value Assessment of Technology Projects, ERP and SCM Systems Integration, Process Performance
Transportation Systems Modeling & Analysis - Efficient Emergency Response, Operations of Transportation Management Systems
Applied Operations Research  - Optimal Resource Allocation, Priority Queues, Data Driven Predictive Modeling
Education
Ph.D. Purdue University

M.S.I.E. Purdue University

M.S.C.E. Purdue University

B. Tech. (Honors) Indian Institute of Technology (IIT), Kharagpur
Positions Held
Associate Professor, College of Business, James Madison University, Harrisonburg, VA
Assistant Professor, College of Business, James Madison University, Harrisonburg, VA
Senior Systems Designer. JDA Software Group, Scottsdale, AZ
Senior Consultant / Consultant, i2 Technologies, Dallas, TX
Graduate Research Assistant, Purdue University, West Lafayette, IN
Engineer/ Management Trainee, Engineers India Limited, New Delhi, India
Select Publications
Zhao, X., Wang, P., and Pal, R., "The effects of agro-food supply chain integration on product quality and financial performance: Evidence from Chinese agro-food processing business", International Journal of Production Economics (IJPE), Vol. 231, 2021. 
Altay, N. and Pal, R., "Carbon Roots International (CRI)", Emerald Emerging Markets Case Studies (EEMCS), Vol. 10, No. 3, pp. 1-27, 2020.
Pal, R. and Altay, N., "Identifying Key Success Factors for Social Enterprises Serving Base-of-Pyramid Markets through Analysis of Value Chain Complexities", Journal of Business Logistics (JBL), Vol. 40, No. 2, pp. 161-179, 2019.
Pal, R., Wang, P., and Liang, X., "The critical factors in managing relationships in international engineering, procurement, and construction (IEPC) projects of Chinese organizations", International Journal of Project Management (IJPM), Vol. 35, No. 7, pp. 1225-1237, 2017.
Mahapatra, S., Pal, R., Hult, T., and Talluri, S., "Assessment of Proactive Environmental Initiatives: Evaluation of Efficiency Based on Interval-Scale Data", IEEE Transactions on Engineering Management (IEEE-EM), Vol. 62, No. 2, pp. 280-293, 2015.
Awards and Recognitions
3rd place, Basic or Discovery Publication Award, JMU College of Business, 2021

1st place, Applied Scholarship Publication Award, JMU College of Business, 2018
1st place, Basic or Discovery Publication Award, JMU College of Business, 2016
3rd place, Applied Scholarship Publication Award, JMU College of Business, 2016
Best Practitioner Publication Award, JMU College of Business, 2007, 2009, 2015
JMU Madison Scholar Award for the College of Business, 2013
Best Educational Publication Award, JMU College of Business, 2009