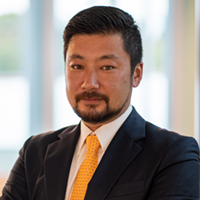 Education
Ph.D., Syracuse University, 2017
MBA, University of Oxford, 2010
B.A. in Economics, University of Wisconsin-Madison, 2005
Professional Interests
Entrepreneurial Entry Decisions

Institutions for Entrepreneurship

Crowd Entrepreneurship

Social Entrepreneurship

Corporate Social Responsibility
Personal Interests
Tennis & Golf
International travel (traveled about 35 countries so far)
Professional Background
Management Consultancy for 7 years

Korean Army for 2 years
Courses Taught
MGT 472 - New Venture Creation

COB 487 - Strategic Management
Awards and Recognitions
Bierly Award for Research - 2020
Best Social Entrepreneurship Research Paper Award by the Korean Center for Social Entrepreneurship Study - 2020
Distinguished Research Paper Award for Entrepreneurship by the Korean Center for Social Entrepreneurship Study - 2019
Service
Faculty Senate, James Madison University

Instructor of the HOPE entrepreneurship program for North Korean Refugees

Columnist of Entrepreneurship, Dong-A Business Review
Key Publications
Lee, C.K., Wiklund, J., Amezcua, A., Bae, T.J., & Palubinskas, A. (2021). The Business Failures and Institutions in Entrepreneurship: A Systematic Review and Research Agenda, Small Business Economics. https://doi.org/10.1007/s11187-021-00495-4
Lee, C.K., Cottle, G. Wiklund, J., & Simmons, S., (2020), Untangling the effects of social cost of failure on high-growth entrepreneurship Small Business Economics. DOI: 10.1007/s11187-020-00324-0.
Lee, C.K., Simmons, S., Amezcua, A., Lee, Jin, & Lumpkin, G.T. (2020). Moderating Effects of Informal Institutions on Social Entrepreneurship Activity. Journal of Social Entrepreneurship, DOI: 10.1080/19420676.2020.1782972.
Bae, T.J. & Lee, C.K. (2019). 2018 GUESS National Report: Republic of Korea, GUESS ORG. (Global University Entrepreneurial Spirit Students Survey).
Lee, C.K. (2017). Business Failure and Entrepreneurship: Three Essays on the Effects of the Cost of Failure, Doctoral Dissertation, Syracuse University.
Lee, C.K., Lumpkin, G.T., & Bangar, R.R. (2015), "The Impact of Stigma of Failure on Social Entrepreneurship Entry Decisions: A Cross-Country Analysis". Frontiers of Entrepreneurship Research BCERC Proceedings, 2015.  Babson Park, MA.
Certifications
Certified Instructor for the Market Place Simulation
Grants
GoVA Industrial Hemp Feasibility Analysis - $53,630