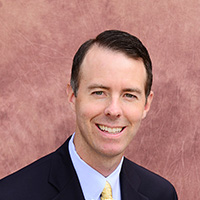 Education
Ph.D., University of North Carolina at Chapel Hill, 2006
M.S. in Accounting, University of Virginia, 2001
B.S. in Commerce (Accounting), University of Virginia, 1997
Professional Interests
Financial Reporting and Disclosure
Auditing
Creative / Effective Teaching Methods
Personal Interests
Spending time with my family
Sports (especially golf, tennis, soccer, basketball, and football)
Trivia
Professional Background
Senior Associate – Assurance, PricewaterhouseCoopers, 1997-2000
Current Courses Taught
COB 241: Principles of Financial Accounting
ACTG 343: Corporate Financial Reporting I
ACTG 344: Corporate Financial Reporting II
ACTG 693: Financial Statement & Data Analysis
Positions Held
Clemson University, Assistant Professor, 2012-2016
College of William and Mary, Assistant Professor, 2006-2012
University of North Carolina at Chapel Hill, Research Assistant and Instructor, 2001-2006
University of Virginia, Research Assistant and Instructor, 2000-2001
Awards and Recognitions
JMU College of Business Best Practitioner Paper Award (2nd place), 2017

Alfred N. Page Undergraduate Teaching Award, College of William and Mary, 2011
BBA Class of 2009 Faculty Excellence Award, College of William and Mary, 2009
Service
Board Member, Federation of Schools of Accountancy, 2017-present

Editorial Board Member, 

Issues in Accounting Education

, 2011-2013
Professional Certifications and Affiliations
Certified Public Accountant, State of Virginia
American Accounting Association, Member of the Financial Accounting and Reporting section and the Auditing section
Virginia Society of Certified Public Accountants, Member
Key Publications
"U.S. Exporters Leaving Tax Dollars on the Table," Journal of Accountancy (2016), 222 (5): 66-70, with Allison Evans and Jonathan Harris. 
"Cash Balance Plans for Professional Practices," Journal of Accountancy (2015), 219 (3): 48-53, with Allison Evans. 
"Auditor Resignations and the Importance of Monitoring Client Acceptance Risk," Current Issues in Auditing (2012), 6 (1): P7-P11, with Paul Walker. 
"Accounting Choice and the Fair Value Option," Accounting Horizons (2011), 25 (3): 487-510, with Katherine Guthrie and Jan Sokolowsky. 
"An Ex Post Examination of Auditor Resignations," Accounting Horizons (2011), 25 (2): 267-283, with Tony Catanach, Susan Perry Williams, and Paul Walker.
"Integrating Research into an Undergraduate Accounting Course," Issues in Accounting Education (2011), 26 (2): 287-303, Sole authored. 
"The Valuation Differences Between Stock Option and Restricted Stock Grants for US Firms," Journal of Business Finance & Accounting (2011), 38 (3/4): 395-412, with Wayne Landsman and Brad Lindsey.
Grants
American Accounting Association Steve Berlin/CITGO Grant, 2013
PricewaterhouseCoopers INQuires Grant, 2010
Andrew Mellon Foundation Grant for Teaching Innovation, 2008-2009
Institute of Internal Auditors Research Foundation Doctoral Dissertation Grant, 2005