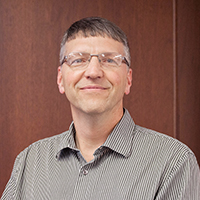 Research and Teaching Interests
Accounting Information Systems

Cost Accounting

Forensic Data Analytics

Principles of Financial Accounting

Creative/Effective Teaching Methods

Fraud Investigation/Forensic Data Analytics

Data Visualization Tools for Fraud Investigation
Education
Ph.D., Accounting Information Systems, University of South Florida, Tampa, Florida, August, 2002

M.B.A., University of West Florida, Pensacola, Florida, August, 1996

B.S./B.A. Accounting/Data Processing, University of Arkansas, Fayetteville, Arkansas, July, 1987
Positions Held
Professor, James Madison University, 2007-present

Assistant Professor, LSU, 2002-2007

Controller, McDonalds Franchise, 1988-1996

Comptroller, C.W. Davis, Inc. - McDonald's, Mary Esther, Florida, 1993-1995
Comptroller, Davis Foods of Pensacola - McDonald's, Pensacola, Florida, 1988-1993
Staff Accountant, Baird, Kurtz, & Dobson, CPA's, Little Rock, Arkansas, 1987-1988
Select Publications
"Solving the "Mystery" of Profiling Fraud: Teaching Students About Occupational Fraud by Examining Episodes of Mystery Diners", Journal of Forensic Accounting Research, Vol 3 #1, 2018: A1-A15, with R.J. Daigle and D. N. McSwain.
"Dr. Phil and Montel Help AIS Students "Get Real" With the Fraud Triangle," Journal of Accounting Education, Vol 32, #2 (June), 2014:146-159, with R. Daigle and P. Morris.
'Worth Repeating: Paper Color May Have an Effect on Student Performance,' Issues in Accounting Education, Vol. 24, #2, May 2009: 187-194, with D. Fordham.
"Caroline's Candy Shop: An In-Class Role-Play of the Revenue Cycle." Journal of Information Systems, Vol. 19, Spring 2005: 131-154, with J. Kenneth Reynolds.
'Market Reaction to ERP Implementation Announcements' Journal of Information Systems, December, 2001: 3-21, with J. Hunton and J. Reck.
Awards and Recognitions
Teaching and Learning Scholarship Award, College of Business, JMU - 2020

Best Teaching Innovation Award, American Accounting Association's Forensic Accounting Section - 2020

Teaching and Learning Scholarship Award, College of Business, JMU -  August 2016