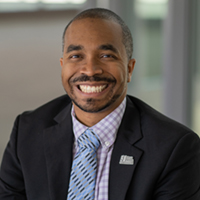 Areas of Expertise
Racial/neighborhoods/ecological effects on recreation participation
Organizational diversity
Cultural competency and recreation
Mentorship
Recreation programming
Education
Ph.D., Recreation, Sport and Tourism, University of Illinois at Urbana-Champaign - 2016
M.S., Information Systems Management, DeVry University, Keller School of Management - 2010
B.S., Leisure Studies, University of Illinois at Urbana-Champaign - 2005
Positions Held
Assistant Professor, James Madison University, 2021 - present
Select Publications
Anaza, E., & Hallmon, A. W. (2020). Thoughts and attitudes towards mimicking regulations and policy interpretations similar to Title IX. International Journal of Sport Policy and Politics, 12(3), 365-386.
Hallmon, A. W., & McMillion, D. Y. (2020). The Intersection of Leisure and Racial Socialization to Promote Positive Practices. Positive Sociology of Leisure (pp. 175-194). Palgrave Macmillan, Cham.
Hallmon, A.W., Myllykangas, S. A. & Nagata, S. (2020) A Profession-Based Learning Approach to Teaching Contemporary Parks and Recreation Students. SCHOLE: A Journal of Leisure Studies and Recreation Education
Hallmon, A. W., Anaza, E., Sandoval, A., & Fernandez, M. (2020). Black mothers recreational choices for their children: a critical race theory story. Annals of Leisure Research, 1-15.
Hallmon, A.W. & Tapps, T. (2019).  The value of strategic mentorship in park and recreation agencies. International Journal of Evidence-Based Coaching and Mentoring, 17(1), 34-45.