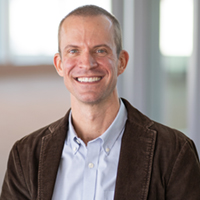 Teaching & Research Interests
Game theory

Health economics

Design of randomized experiments

Economic history
Education
Ph.D. University of North Carolina
Post-doc. Duke University
B.A. Davidson College
Positions Held
Assistant Professor, Department of Economics, James Madison University, 2006-2012
Post-doctoral Fellow, Duke Clinical Research Institute, Duke University, 2004-2006
Research Fellow, Novartis Pharmaceuticals Corp., 2004-2006
Research Fellow, Mid-Atlantic Medical Services Inc., 2003
Post-doctoral Fellow, Center on Drugs and Public Policy, University of Maryland, 2003
Research Assistant, Bank of America, Department of Economic and Financial Research, 1997
Select Publications
Grant, W.C. (2022). Transparent Players: the Use of Narrative Voices in Game Theory. Journal of Economic Methodology. 
Grant, W.C. (2020). Trusting a Double Agent. Defence and Peace Economics.
O'Roark, J.B. & Grant, W.C. (2018). Games Superheroes Play: Teaching Game Theory with Comic Book Favorites. Journal of Economic Education
Grant, W.C. & Anstrom, K.J. (2009). Minimizing Selection Bias in Randomized Trials: a Nash Equilibrium Approach to Optimal Randomization. Journal of Economic Behavior & Organization.
"The Burden of Hepatitis-C Virus Infection in Children: Estimated Direct Medical Costs Over a Ten-Year Period." Journal of Pediatrics: Elsevier.