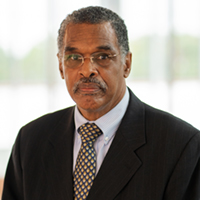 Education
Ph.D., 1986, Temple University, Graduate School of Business, Philadelphia, Pennsylvania.  Major:  Accounting

M.B.A., 1970, University of Chicago, Graduate School of Business, Chicago, Illinois.  Major:  Accounting
B.A., 1967, Howard University, College of Liberal Arts, Washington, D.C.  Major:  Economics
Positions Held
Professor, James Madison University, School of Accounting, Harrisonburg Virginia 1995 - present
Program Director, James Madison University, School of Professional Studies-Accounting, 1997-1998
Director, James Madison University, School of Accounting, Harrisonburg, Virginia 1994-1997
Associate Professor, James Madison University, School of Accounting, Harrisonburg, Virginia.  1990 - 1995
Assistant Professor, James Madison University, School of Accounting, Harrisonburg, Virginia.  1985 - 1990
Associate Professor, Lincoln University, Department of Economics and Business Administration, Lincoln University, Pennsylvania.  1975 - 1985
Select Publications
Gabbin, A.L., "The Crisis in Accounting Education," Journal of Accountancy ( April, 2002, Volume 193, Number 4), pp. 81-86.
Gabbin, A.L., "Experience With Using Samples to Assess Students in the Major," Assessment Update ( March-April, 2002, Volume 14, Number 2), pp. 6-9.
Green, B.P., T. Calderon, A. Gabbin, and J. Habegger, "Perspectives on Implementing a Framework for Evaluating Effective Teaching," Journal of Accounting Education (volume 17,  number 1: Winter 1999).
Gabbin, A., B. Carpenter, I. Kleinsorge, and T. Sutherland, Accounting Administrator's Handbook:  A Guide For Managing Innovation and Change in Accounting Programs, American Accounting Association, Administrators of Accounting Programs Group (AAA, APLG).  July, 1998.
Schwartz, B. N. and A. Gabbin, "Constituent Feedback in Prioritizing the Capabilities Accounting Graduates Need," The Accounting Educators Journal (July 1998)
Awards and Recognitions
KPMG LLP Professor of Accounting, 1994 – present
National Black MBA Association, Inc. Lifetime Membership Award; founding member (1970), 30th Anniversary From Whence We Came, Townes, J.R.( October, 2000) Chicago, Illinois.
Educational leave, Project:  Applied Professional Research Using Electronic Databases, 1998- 1999.
Adolph Coors Foundation Professor of Accounting, 1991-1994
Faculty Summer Teaching Grant:  "Shifting from a Lecture to a Case Study Methodology in Teaching Financial Accounting 241," Summer 1993
Education Award, Black History Celebration Day, 

The Shenandoah Valley Hit Newspaper

, (Feb. 1992).
JMU Outstanding Teacher in Accounting Award, 1992
JMU Outstanding Teacher in Accounting Award, 1990
JMU Outstanding Teacher in Accounting Award, 1988
JMU Outstanding Teacher in Accounting Award, 1986
International Fraternity of Delta Sigma Pi, 1991
Teacher Award, Lincoln University Accounting Club, 1985
Teacher Award, Lincoln University Accounting Club, 1983
Lindback Award for Distinguished Teaching, 1982
Caribbean-American Exchange Program, Phelps-Stoke Fund, 1980
"Accounting Educators Award" of the National Association of Minority CPA Firms, 1979
Third World Press "Builder's Award," 1978
Humble Oil and Refining Company Fellowship, 1969
Humble Oil and Refining Company Fellowship, 1968
Who's Who Among Students in American Colleges and Universities, 1967
Prior to 1967: Several trophies and awards for scholarship, athletics, music and student government