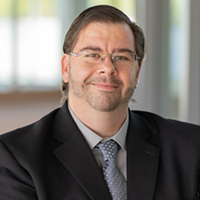 Teaching & Research Interests
Research:
Information Technology Dynamic Capabilities
Organizational Learning / Knowledge Management
Innovation Mindfulness in Information Technology
Business Analytics / "Big Data"
Structured / Unstructured Data Quality
Decision Quality
Teaching:
Information Systems
Object-Oriented Application Development
Database Design and Application
Statistics
Business Analytics / Business Intelligence / Big Data
Education
Ph.D. – Information Systems, Auburn University, 2015
M.S. – Information Systems, Middle Tennessee State University, 2010
B.S. – Computer Science, University of Tennessee – Martin, 2002
Positions Held
Assistant Professor of Computer Information Systems and Business Analytics, James Madison University, (2015-present)
Select Publications
Peer Reviewed Journal Publications:
Hazen, B. T., Boone, C. A., Ezell, J. D., & Jones-Farmer, L. A. (2014). Data quality for data science, predictive analytics, and big data in supply chain management: An introduction to the problem and suggestions for research and applications. International Journal of Production Economics, 154, 72-80.
Jones-Farmer, L. A., Ezell, J. D., and Hazen, B. T. (2013). Applying control chart methods to enhance data quality. Technometrics, 56(1), 29-41.
Sutton, K., Ezell, J., and Sankar, C. S. (2013). Diagnosing student learning outcomes using the organizational learning contract framework. International Journal of Information and Communication Technology Education, 9(1), 12-25.
Clark, W. R., Ezell, J. D., Clark, J., and Sheffield, D. N. (2009). Stay or leave: Applying approach-avoidance theory to virtual environments. Journal of Database Marketing & Customer Strategy Management, 16(4), 231-240.
Book Contributions:
Ezell, J. D., Hazen, B., Hall, D., & Jones-Farmer, L. A. (2016). Enhancing Data and Decision Quality with Statistical Process Control. In M. Warkentin (Ed.), The Best Thinking in Business Analytics from the Decision Sciences Institute (pp. 17-34). Upper Saddle River, NJ: Decision Sciences Institute.