College of Business - Real Estate Symposium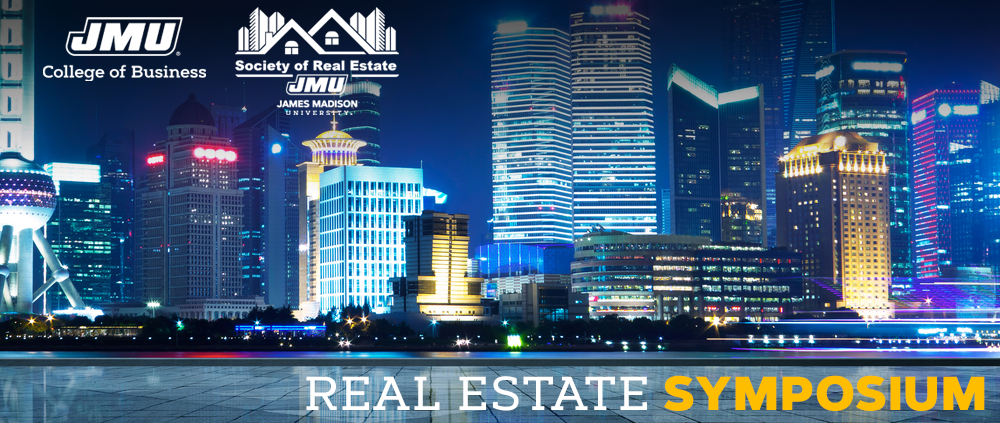 Join us for the 2021 Virtual Real Estate Symposium hosted by the College of Business and the JMU Society of Real Estate.
"Current and Future, Real Estate Opportunities"
April 6, 2021
7:00 p.m. - 8:30 p.m.
Registration is required to attend. If you are affiliated with the university as a student, faculty or staff member, please use your JMU email when registering.
Keynote Speaker
Claiborne Johnston is a managing director of Morgan Stanley and head of the Americas Real Assets private capital markets with responsibilities across real estate, infrastructure, real asset credit and listed real asset securities. He has over 20 years of industry experience, with over 16 years at Morgan Stanley where he has been part of the firm's investment management and investment banking platforms with a focus on real estate and private capital markets. 
Claiborne received an MBA from Columbia University, a B.A. from JMU and is completing his master's thesis in architectural history at the University of Virginia. He is involved in a number of industry groups such as INREV, AFIRE, ULI, PREA and the Institute for Fiduciary Education.  
Claiborne has been a long-standing volunteer for Junior Achievement (NYC) and currently serves as a member of the investment committees at JMU and St. Catherine's School in Richmond, Va. He is also the chair of the governance committee for Cupron, Inc., a privately-held anti-microbial technology company based in Virginia.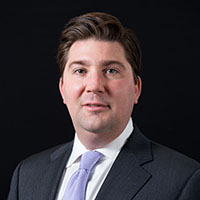 Claiborne Johnston ('00)
Managing Director, Morgan Stanley
Panel 1 Moderator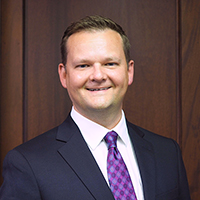 Kemper Funkhouser ('00)
COO, Funkhouser Real Estate
Kemper Funkhouser is the chief operating officer and supervising broker of Funkhouser Real Estate Group. The firm offers residential and commercial brokerage services throughout the Shenandoah Valley of Virginia with eighty licensed associates. Kemper was president of the Virginia REALTORS in 2020, the state's largest trade association, and is currently serving on the National Association of REALTORS Board of Directors. He is a Double Duke, twice graduating from JMU, with a degree in finance ('02) and an MBA ('10). He has taught the Real Estate Principles class at JMU as an elective for finance majors for eight years.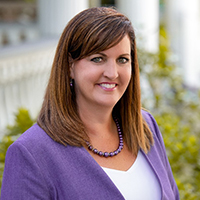 Mary G. Jones ('91)
Realtor and Assoc. Broker, Fathom Realty
Mary Jones began her career as a recruiting manager for a large law firm in Washington, DC, and is now in her 15th year as a full-time residential REALTOR and associate broker, currently with Fathom Realty in Richmond, Va.
Mary has incorporated JMU's "Be the Change" motto into her business model with the tagline "Opening Doors... Changing Lives" and is living it out daily by giving back to JMU as well as helping out homeless families in her local community.
Mary graduated from JMU with a degree in management ('91). She and her husband (JMU '91) have 3 kids, but despite raising them with amazing JMU tailgates on Godwin Field and season tickets since 2004, none of them chose to attend JMU.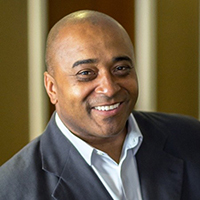 Willie Lanier ('89, '90, '92)
Founder, Lanier United
A former letterman with JMU Football, Willie Lanier Jr. is the founder of Lanier United, a private investment company which showcases its dedication to quality through a portfolio of properties executed with fine craftsmanship, innovation and design. Their most recent project was a $13.5 million multi-family development in Richmond, Va. His previous work with JE Dunn Construction saw him participating on projects for the Sprint World Headquarters Campus, Kauffman Foundation, Hilton Hotel and Casino and Sysco Foods Warehouse. 
With more than 20 years of senior real estate development and construction experience, Willie has participated in multimillion-dollar developments of student, luxury, senior and military housing, mixed-use and single family properties. 
Willie received a bachelor's degree from JMU and holds an Executive MBA from University of Missouri Kansas City. He is also on the board of the Greater Kansas City Community Foundation, Urban Land Institute, Kansas City; the board of the Hands and Hearts Auxiliary; the fundraising board of Children's Mercy Hospital located in Kansas City, Mo.; and the board of Envision Lead Grow, where he acts as chair of the Fund Development Committee.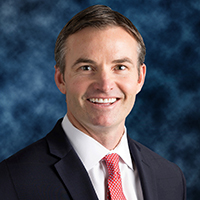 Ryan Gallagher ('98)
Managing Partner and Co-Founder, Space Investment Properties
Ryan Gallagher is the managing partner and co-founder of Space Investment Properties, which specializes in value-add office, retail, industrial, multi-family and hotel properties with a geographic focus on the West Coast, Boston, NYC and Washington D.C. Over his twenty-year real estate career as an advisor, Ryan has executed on over $16 Billion (USD) of commercial real estate in office, retail, industrial, and mixed-use transactions representing high net worth individuals, fortune 100 companies, and top tier real estate investment funds including: AEW, American Realty Advisors, Bank of America, Blackrock, Blackstone, CalPERS, CalSTRS, Carlye, Fidelity Investments, General Electric, Goldman Sachs, Kilroy REIT, Mass Mutual, Manulife, MetLife, Prudential, Rockwood, TIAA-CREF, U.S. Bank, Wells Fargo and Zurich Insurance. Since earning his B.A. in finance from JMU, he has also worked for Deutsche Bank/RREEF, Grubb and Ellis, and HFF.
Panel 2 Moderator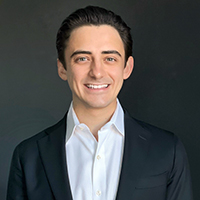 Elliott Sellers ('17)
VP for Investments, Anchor Health Properties
Elliott Sellers is a vice president at Anchor Health Properties tasked with sourcing and screening real estate investment opportunities and providing recommendations to institutional equity partners. Elliott serves an integral role in the management of real estate acquisition and development investments, overseeing more than $850 million of closed investments to date. Prior to his current role at Anchor Health Properties, Elliott worked as an intern at a commercial real estate brokerage firm in Charlotte, NC, with key focus areas including investment sales and debt placement for a wide variety of asset classes. Elliott is based in the firm's Washington D.C. office located on Embassy Row.
Elliott holds a B.B.A. degree in finance from JMU and is a CFA® charterholder. During his time at JMU, Elliott was actively involved in several organizations including the Madison Investment Fund and Delta Sigma Phi Fraternity. Elliott enjoys volunteering in his community and previously served on the Central Virginia American Red Cross Board.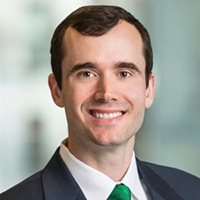 Paul Meierdierck, ('07)
Managing Director, LaSalle Investment Management Securities
Paul Meierdierck is a portfolio manager of the global office, residential and healthcare real estate sectors with LaSalle Securities. His position entails company and real estate market underwriting, portfolio construction and maintenance, and he plays a key role in the firm's thought leadership.
Paul joined LaSalle in 2007, and became Portfolio Manager in January 2020. He currently serves on the Portfolio Management Oversight Committee of LaSalle Securities.
Paul received a B.B.A in finance from JMU, where he graduated magna cum laude. He holds the Chartered Financial Analyst designation and is a member of the New York Society of Securities Analysts.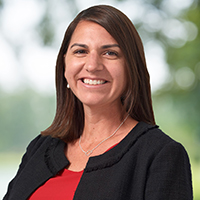 Katie Jacoby ('03)
Executive VP for Strategy and Development, Anchor Health Properties
Katie Jacoby is executive vice president, strategy and development for Anchor Health Properties, a full-service healthcare real estate firm and is based in the firm's Media, Pa. office.
Katie is an experienced real estate professional with more than 15 years at Anchor Health Properties developing and leasing innovative outpatient healthcare facilities. She is responsible for sourcing and executing development projects, leading the company's development team and implementing corporate strategic initiatives across the country. 
In her previous roles, she has managed all aspects of the development process project concept through building opening and has held responsibility for setting and implementing the company's marketing and communications strategy.
Katie is a member of the Urban Land Institute's Health Care and Life Sciences Council and has spoken at several notable conferences, including Bisnow's State of Healthcare, and Healthcare Facilities and Expo. She received a B.B.A. degree in finance from JMU with a minor in human resource development.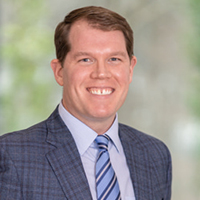 Micah Corder ('03)
Micah Corder works out of the McLean office of Washington Fine Properties and focuses primarily in the Loudoun, Fairfax and Arlington counties of Virginia.
Micah began his career working for a group of congressmen and senators as their representative to the National Student Leadership Forum, where his focus was mentoring student leaders and connecting them with political, business and other student leaders at universities across the country. He went on to engage in the Northern Virginia real estate industry, through his interest in the construction field.
He has worked as a sales associate for a number of established firms in the Washington metropolitan area and joined Washington Fine Properties in 2009 along with his business partner Jennifer Harper Thornett.
Micah earned a degree in communication studies at JMU, and currently lives in Ashburn Va. with his wife Sara and their four daughters.