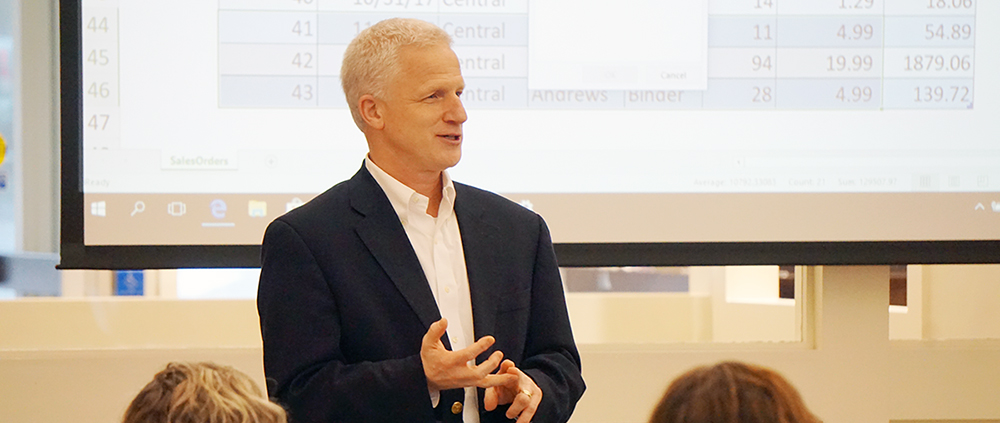 Endowed Faculty Support
Contribute to one of these Endowed Faculty Support funds or establish a new one: Faculty Chairs begin at $1,000,000; Professorships at $250,000; Fellowships at $150,000 and Faculty Support Funds at $50,000. Contributions of any amount may be added to an established fund. This naming opportunity may be established with $10,000 annually for five years.
$150,000 will establish an endowed faculty fellowship to support research, curriculum development, travel to conferences and professional meetings to present their work, and for other activities essential to their professional development.
R. Jarl Bliss Endowed Fellowship by R. Jarl ('84) and Elizabeth McConnell ('84) Bliss: Dr. 

Rhonda A. Syler, Associate Professor and Academic Unit Head, Department of Computer Information Systems and Business Analytics
$250,000 will establish an endowed named professorship to be awarded at the discretion of the provost and that recognizes professors by supplementing their salaries and giving them support for research, program and professional development.
$500,000 will establish an endowed named distinguished professorship to be awarded based on the specific restrictions designated by the donor that are within university guidelines. Distinguished professorships supplement professors' salaries and give them support for their research, program and professional development.
Bartee Endowed Professorship in the College of Business: Dr. Mert Tokman
Betty Coe ('64) & Paul J. Cinquegrana Endowed Chair in Business Ethics and Leadership: Dr. Michael E. Busing
CSX Eminent Scholars Distinguished Professorship in Management: Dr. William Ritchie
J. Gray Ferguson Endowed Professorship in Finance by Janet M. Ferguson: Dr. Hui Sono
JW and Alice S. Marriott Professorship in Hospitality Management: Dr. Gilpatrick Hornsby
Journal of Accounting Education Eminent Scholars Professorship: vacant
KPMG Endowed Professorship of Accounting: Dr. Alexander Gabbin
PricewaterhouseCoopers Don Caputo Memorial Teaching Professorship: Dr. Tom Dillon
Showker Professor of Entrepreneurship: Dr. Fariss Mousa
Wallace Chandler/Universal Corporation Eminent Scholars Professorship in Banking: vacant
$1,000,000 will establish an endowed faculty chair that is awarded based on specific restrictions designated by donors that are within university guidelines. Endowed faculty chairs enable the University to recruit and retain the most outstanding professors. Income from the endowment provides a salary supplement as well as research and program support.
Jackson E. Ramsey Eminent Scholars Centennial Chair in Business by Joseph F. ('76, '77) and Pamela C. ('77) Damico: Dr. Charles Bailey
Kirby L. Cramer Jr. Eminent Scholars Chair in Business Administration by Kirby L and Ellery Cramer: Dr. Barkley Rosser