(To view current reports, click here)  
General Education: The Human Community is an essential part of every undergraduate degree at James Madison University. One of the oldest learning outcomes based programs in the U.S., it is original in its focus on interconnected areas of study called clusters. Courses in each cluster have been designed by JMU faculty so that students can meet the specific learning outcomes of that area. The Center for Assessment and Research Studies (CARS) at James Madison University has partnered with General Education faculty in order to measure student learning in five  clusters. Together, we have gathered over 20 years of data using direct measures of student learning.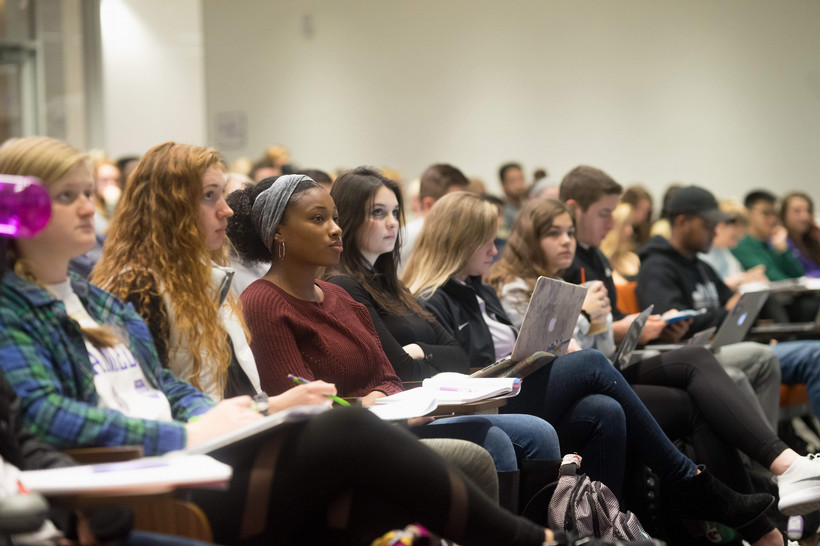 In addition to providing annual assessment results to the General Education faculty, and other key stakeholders within JMU, we also report annually to our regional accrediting body, The State Council of Higher Education of Virginia (SCHEV). The Policy on Student Learning Assessment and Quality in Undergraduate Education of 2017 requires regular assessment and reporting of student achievement in six specific competency areas.   
Of these six areas, four are determined by SCHEV, and two areas are selected by the reporting institution. Each competency area is reported on a pre-determined assessment cycle, with typically two areas being reported on each year. 
SCHEV Defined Areas of Competency for Student Learning and Development   
Critical Thinking: The ability to subject one's own and others' ideas, arguments, assumptions, and evidence to careful and logical scrutiny in order to make an informed judgement, draw a sound conclusion, or solve a problem. 

Written Communication: The ability to develop and communicate ideas effectively in writing as appropriate to a given context, purpose, and audience. It includes a variety of styles, genres, and media, including computer-mediated communications. 

Quantitative Reasoning: The ability to manipulate, analyze, and/or evaluate numbers and numerical data. It may involve calculation  and/or analysis and interpretation of quantitative information derived from existing databases or systematic observations, and may be based in a variety of disciplines, not limited to mathematics and the natural and physical sciences.

Civic Engagement: An array of knowledge, abilities, values, attitudes, and behaviors that in combination allow individuals to contribute to the civic life of their communities. It may include, among other things, exploration of one's role and responsibilities in society; knowledge of and ability to engage with political systems and processes; and/or course-based or extra-curricular efforts to identify and address issues of public or community concern. 
 JMU Additional Competency Areas 
Ethical Reasoning, Information Literacy, and Oral Communication  
Reports
Oral Communication (2023)
Civic Engagement (2022)
Writing (2022)
Ethical Reasoning (2021)
Information Literacy (2019)   
Competency in information literacy is associated with Cluster One: Skills for the 21st Century. All students are competent in information literacy by the time they graduate from JMU and over 98% are competent by the end of their first year. Take a few minutes to watch our video report in order to learn more about information literacy at JMU.   
Scientific and Quantitative Reasoning (2019)   
We believe that scientific and quantitative reasoning are essential characteristics of an enlightened and engaged citizen. Students at JMU show statistically significant increases in these skills after taking their general education courses. Our data also shows that such increases have occurred for more than 10 years of student cohorts!   
Coming Soon! JMU Reporting Cycle: 
2023: Oral Communication
2024: Critical Thinking