National Partners
Learning Improvement Community  
Born out of the inaugural

Learning Improvement Summit

in 2017, that was started as a partnership between The Center for Assessment & Research Studies (JMU) and Charlie Blaich and Kathy Wise from the Center of Inquiry (Wabash College).

 


 

A collaborative project led by a group of attendees from the Learning Improvement Summit(s) that strives to collect and share

learning improvement stories

.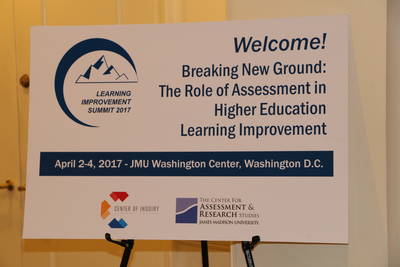 JMU faculty and students have contributed to and participated in the annual Assessment Institute hosted by Indiana University-Purdue University Indianapolis (IUPUI). In recent years, Keston Fulcher and CARS have worked with Assessment Institute President, Dr. Stephen Hundley, on many collaborative pursuits.

 


 

Creating a learning improvement track at the annual Assessment Institute

 

Delivering keynote addresses, and serving on panels at the Institute

 

Helping to share the story of Dr. Hundley's vision for

the future of the Assessment Institute

through an interview project. 

 

Plans to collaborate on an international Assessment Institute, with CARS as a co-host (originally scheduled for Berlin in June 2020, but postponed due to COVID-19)

 

 

IUPUI faculty visit JMU for professional development

 


 

In 2018, IUPUI's Director of Academic Quality and Undergraduate Education,

Shawn Boyne,

held a residency at JMU as an American Council of Education (ACE) Fellow; where she spent the semester learning about assessment. Shawn attended some of our summer assessment offerings, including our APT rater training workshop where she learned about JMU's assessment reporting process. 

 

In the summer of 2019, Shawn came back to JMU and brought a team of faculty from IUPUI to participate in a week-long workshop called "Learning Improvement in Action: Integrating Ethical Reasoning & Program-Level Learning Improvement." This workshop, attended by groups from 5 different institutions, aimed to help teach how to develop a program-level learning improvement plan through the example of an ethical reasoning intervention (modeled after JMU's

Ethical Reasoning in Action

- Eight Key Questions program.)

 

 

 
Building a foundation for the teaching of learning improvement

 


 

Keston Fulcher & Caroline Prendergast (Assessment & Measurement PhD student) wrote a chapter in Stephen Hundley's "Trends in Assessment" book (published in 2020).

 


Fulcher, K., & Prendergast, C. (2020). Lots of assessment, little improvement? How to fix the broken system. In S.P. Hundley & S. Kahn (Eds.),

Trends in assessment: Ideas, opportunities, and issues for higher education

. Sterling, VA: Stylus.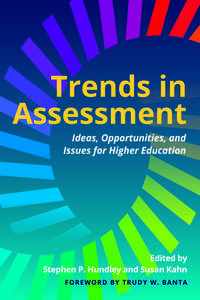 CARS faculty and students have had their work published many times over the years in NILOA's

Occasional Papers

series.

 


 

Partnerships with NILOA on Webinars
Regional Partners
Virginia Assessment Group (VAG) 
As our regional assessment working group, JMU has an ongoing relationship with VAG. CARS faculty and students participate regularly in the annual meeting and conference held in cities throughout Virginia; often sending 10+ more presenters.

 


 

Both Keston Fulcher & Robin Anderson (alumni of the A&M  Ph.D. Program, and Graduate Psychology faculty) have served as past presidents of the Virginia Assessment Group. (Robin is the founder of the Research & Practice in Assessment newsletter, which has become their professional journal)

 


 

Jeanne Horst has served as a board member for the last 6-7 years; and CARS regularly sponsors the annual conference.

 


 

In 2019, the Professional Development team within CARS partnered with VAG, and 4-Virginia to co-host an

Assessment Drive-In

virtual day-long conference pertaining to assessment in higher education. The event included groups participating through a telepresence platform from six different locations across the Commonwealth: George Mason University, James Madison University, Old Dominion University, University of Virginia, Virginia Commonwealth University (Cisco Headquarters), and Virginia Tech.