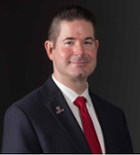 Dr. Stephen Hundley holds multiple titles at Indiana University-Purdue University Indianapolis (IUPUI), serving as Senior Advisor to the Chancellor for Planning and Institutional Improvement, a professor of Organizational Leadership, the chair of the IUPUI Assessment Institute, and as the senior editor of Assessment Update. JMU alumni Nick Curtis (Ph.D. '18) spoke with Dr. Hundley about how his many roles interact and his thoughts on the future of higher education.
Dr. Hundley began his academic career by focusing on human resource management and development. When he became a faculty member and was asked to engage in academic assessment work, he saw obvious parallels between his prior training and assessment practice. Dr. Hundley noted, "There is a tension between training and performance… You want trainees to acquire and use skills/knowledge outside of the training setting by having good performance. This is the same as the tension between teaching and learning." Put another way, Dr. Hundley noted that there is a difference between demonstration of knowledge or skills directly after an experience, and being able to use that knowledge or skill later. He built on this idea by highlighting how assessment practice helped his classroom teaching, "There is a difference between focusing on meaningful concepts that students should take away versus coverage" [i.e., trying to cover all concepts].
Dr. Hundley learned quickly that he did not need to cover all possible content. Instead, he needed to focus primarily on the things that students are supposed to know, think, or do by the end of the course. He would then think about how his classroom practices helped students get there. Dr. Hundley believes that those doing assessment at the program- and institutional- levels, should adopt this view as well. As associate dean of the School of Engineering and Technology at IUPUI, he put this belief into practice. Instead of simply doing the work for them, he helped faculty learn how to align assessment practices with their efforts in teaching. He noted that he is fortunate to have held multiple roles at IUPUI (e.g., faculty, dean, associate vice chancellor, senior advisor); and he credits the different vantage points afforded by these roles as the secret to his success in helping faculty, staff, and administrators better understand assessment practice.
One of Dr. Hundley's most notable roles is that of chairing the IUPUI Assessment Institute. When Nick inquired about the Institute, Dr. Hundley was quick to acknowledge the hard work of those that came before him. He noted that the Institute would not be possible without people such as Peter Ewell, George Kuh, Tom Angelo, and especially, Trudy Banta. Dr. Banta retired from IUPUI in 2016 after serving as Senior Advisor to the Chancellor, during which time she was Founding Chair of the Assessment Institute (click here to read an interview with Dr. Banta in 2016).
Dr. Hundley noted that he has three goals for the Assessment Institute in the next five years. First, he wants to honor the legacy of Dr. Banta and those that made the Institute possible by keeping sessions accessible to new practitioners. In his experience as a new faculty member, being able to attend and present at the Institute positively shaped his early views on assessment practice. He would like to continue to provide this formative experience to others.
Second, he would like to expand the current offering and begin providing sessions for more advanced assessment practitioners. Dr. Hundley emphasized key partnerships with organizations such as the Association for the Assessment of Learning in Higher Education, the National Institute of Learning Outcomes Assessment, the Association of American Colleges and Universities, the Higher Education Data Sharing Consortium, and the Center for Assessment and Research Studies at James Madison University, as integral to this effort. He noted that partnerships such as these allow the creation of new educational tracks at the Institute, such as the Learning Improvement track that debuted this year, headed by the executive director of CARS, Keston Fulcher.
Third, he would like to remain responsive to the needs of the attendees at the Institute. Dr. Hundley noted that there are now more providers of assessment content than ever before. If the Institute is to be successful, it will need to provide relevant and timely development topics. Dr. Hundley is confident that the Institute can meet these demands in a 'discipline-agnostic' manner.
When asked what institutions such as JMU and IUPUI could do to continue to move the national conversation about assessment and learning in a positive direction. Dr. Hundley started by noting that stakeholders in higher education (e.g., parents, accreditors, policy makers, employers, and students) expect clear articulation of the knowledge and skills students will acquire as a result of some educational experience (e.g., class, program, degree). Dr. Hundley lamented the fact that some aspects of the national conversations about assessment are the same today as they were 25 years ago. He noted that, "if things are not different now, then shame on us for not affecting the culture change [in higher education] that is needed." When asked how to affect such a change, he further noted that it requires both top-level leadership buy-in and resources to support assessment efforts. He stated that the culture of an institution is shaped by "who we hire, who we promote, and what we reward." He believes that to advance the national conversation, we need to value assessment within our institutions and encourage faculty members to view assessment as an integral part of their job. In other words, to view assessment and learning as intertwined. He also believes that sending faculty to great assessment conferences such as the Assessment Institute help to move the conversations forward.
Shifting to broader predictions for higher education in 10 years, Dr. Hundley acknowledged that higher education will likely remain relevant, yet will be much more competitive. He believes that legacy institutions, those that have operated in the traditional on-campus model for many years, will face strong challenges from emerging providers. He commented that these emerging providers may take a variety of forms (e.g., public-private partnerships, international mergers, consortia). Dr. Hundley also believes that the value of a higher education credential will be, "appropriately questioned by many," and thus, quality assessment efforts will continue to be valued. He hopes that the metrics that are most often valued at the moment (i.e., retention, persistence, and degree completion) will be reinforced with meaningful metrics that capture the more foundational concerns of student learning and development. He also believes that multidisciplinary research and teaching programs will become more common and valued in an increasingly complex and interdisciplinary professional world.
          Over his career in higher education, Dr. Hundley been able to benefit from experiencing assessment at multiple vantage points. His informed views on the assessment practices of the past, present, and future are invaluable to the assessment community. If we can leverage his experience to provide a perspective on the evolution of assessment practice, perhaps we can avoid repeating the same refrain 20 years from now.
Interview conducted by Dr. Nick Curtis, A&M Alumni ('18).
Written by Nick Curtis, Tom Waterbury (CARS Doctoral Assistant), and Paula Love (CARS Staff).
More about Dr. Hundley:
Stephen Hundley, Ph.D., is Senior Advisor to the Chancellor for Planning and Institutional Improvement at IUPUI, an urban-serving institution with 30,000 students.  He is Professor of Organizational Leadership within the Department of Technology Leadership and Communication in IUPUI's School of Engineering and Technology.  Stephen provides strategic advice and consultation to the Chancellor on a range of matters pertaining to IUPUI's strategy and effectiveness; leads the Office of Planning and Institutional Improvement; directs campus-level strategic planning activities; handles the executive search function for the campus; promotes various improvement-oriented initiatives; and serves as executive sponsor of IUPUI's Program Review and Assessment Committee. 
Stephen chairs the annual national-level Assessment Institute in Indianapolis, now the nation's oldest and largest event of its type.  He also serves as executive editor of Assessment Update, a publication from Wiley/Jossey-Bass with a national readership.  Stephen has addressed a variety of audiences in over 30 countries on six continents and throughout the United States.  He writes, consults, and presents on topics related to organizational effectiveness, learning and development, and higher education administration.  Additionally, he has been recognized for his accomplishments through teaching, publication, and service awards and has received competitive funding from federal and state agencies and private foundations to support his work.
His prior academic leadership roles include program director, department chair, and associate dean for academic affairs and undergraduate programs in the School of Engineering and Technology; associate vice chancellor for strategic initiatives in the Office of the Executive Vice Chancellor and Chief Academic Officer; and interim associate vice chancellor for undergraduate education and dean of University College.  Stephen earned his bachelor's and master's degrees from Virginia Commonwealth University and a doctorate from American University in Washington, D.C.