JMU Dukes Army ROTC Program History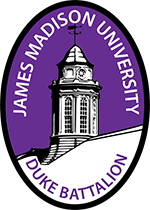 On December 18th, 1974 the president of Madison College, with concurrence of the president of the University of Virginia, petitioned the First ROTC Region Commander to establish Army ROTC instruction at Madison College. On December 24th, 1974 Madison College was officially recognized with an ROTC detachment, in partnership with the University of Virginia's Cavalier Battalion. 
From a program which originally consisted of two students, the department grew a prosperous and successful cadet battalion. On September 12th, 1979 the United States Army Cadet Command recognized that success by upgrading the program to a 'host' battalion, eliminating their partnership with UVA and awarding the battalion Colors signifying its activation into the First ROTC Region. Since that time, the battalion has developed partnership schools of its own, including Blue Ridge Community College and Bridgewater College. Enrollment has continually expanded and is currently over 140 cadets, and the curriculum now includes ten classes plus a leadership laboratory. 
The Duke Battalion has received numerous commendations and awards since its inception, including the Brigade Commander's Award in 1991; the Intercollegiate Orienteering Championship in 1986; The Douglas A. MacArthur Best ROTC Battalion Award in 1992, 1998, 2004 and 2010; The Order of the Founders and Patriots of America Award for Excellence in 1998 and 2007; and Cadet Command's Military Proficiency Award (1996 and 1997), Marksmanship Award (1996), Physical Training Award (1997), and Training Assessment Award (1997). Most notably, the Duke Battalion has dominated the Brigade Ranger Challenge competition, winning First Place in 1989, 1990, 1991, 1993, 1994, 1995, 1996, 1997, 2000, 2007, 2013 and 2019. Regional Ranger Challenge winners in 1991.