On December 18th, 1974 the president of Madison College, with concurrence of the president of the University of Virginia, petitioned the First ROTC Region Commander to establish Army ROTC instruction at Madison College. On December 24th, 1974 Madison College was officially recognized with an ROTC detachment, in partnership with the University of Virginia's Cavalier Battalion.  From a program which originally consisted of two students, the department grew a prosperous and successful cadet battalion. On September 12th, 1979 the United States Army Cadet Command recognized that success by upgrading the program to a 'host' battalion, eliminating their partnership with UVA and awarding the battalion Colors signifying its activation into the First ROTC Region. Since that time, the battalion has developed partnership schools of its own, including Blue Ridge Community College and Bridgewater College. Enrollment has continually expanded and is currently over 180 cadets, and the curriculum now includes eleven classes plus a leadership laboratory.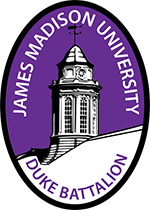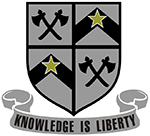 The Duke Battalion has received numerous commendations and awards since its inception, including the Brigade Commander's Award in 1991; the Intercollegiate Orienteering Championship in 1986; The Douglas A. MacArthur Best ROTC Battalion Award in 1992, 1998, 2004 and 2010; The Order of the Founders and Patriots of America Award for Excellence in 1998 and 2007; and Cadet Command's Military Proficiency Award (1996 and 1997), Marksmanship Award (1996), Physical Training Award (1997), and Training Assessment Award (1997). Most notably, the Duke Battalion has dominated the Brigade Ranger Challenge competition, winning First Place in 1989, 1990, 1991, 1993, 1994, 1995, 1996, 1997, 2000, 2007, 2013, 2019, and 2022. Regional Ranger Challenge winners in 1991. 
Duke Battalion Mission
The James Madison University "Duke" Battalion recruits, develops, trains and commissions agile and adaptive warrior leaders to meet US Army leadership requirements and motivates young people through caring leadership to be better citizens committed to lifelong service in the community and Nation. Our Program is committed to excellence, discipline and high standards every day. Maintain a fully resourced leadership development program with a continued and improved national reputation for excellence, a reputation that sustains enrollment and retention, and fosters the highest potential within the young men and women who have answered the call. 

Our graduates are educated, enlightened citizens, and are competent military leaders who are grounded in the Army values, military ethics, and basic war fighting skills. They are leaders who are physically tough and mentally, emotionally, and spiritually prepared to lead Soldiers during peacetime and if necessary, during wartime, with a commitment to serving their country and fight and win our nations wars in the greatest land component Army the world has ever known. 

We want our cadets to be the elite leadership development and service organization at JMU.  This is our mission, and JMU is dedicated to this end.