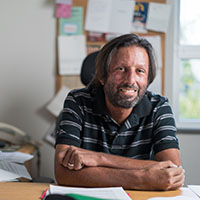 Originally from Philadelphia, Marty Cohen attended Tufts University and the Pennsylvania State University getting his B.A. degree in Political Science from Penn State. He then received his Ph.D. from the University of California at Los Angeles in 2005.
Marty's research interests are varied. His main focus is on the growing electoral influence of the religious right in the Republican Party. He is also interested in political parties and is a co-author of The Party Decides: Presidential Nominations Before and After Reform, published by the University of Chicago Press in 2008. He is also co-author of the 2011 Perspectives on Politics article "A Theory of Parties" which won the Jack Walker Award for its outstanding contribution to research on political organizations and parties.
Marty regularly teaches classes on religion and politics, as well as the introductory American government course and a class on interest groups and public policy. He also has more than a passing interest in the politics of the 1960s.
For data and more, see http://www.martycohen.net.
---
OFFICE: 2151 Miller Hall
PHONE: (540) 568-7322
FAX: (540) 568-8021
MAILING ADDRESS:
Department of Political Science
James Madison University
91 E Grace St., MSC 7705
Harrisonburg, VA 22807