JMU Brand Guidelines for Writing Emails
Announcement or invitation
Be clear and concise to make your messaging accessible, have one call-to-action (CTA) and make it easily actionable with a button or link. Keep the email brief and targeted, using the fewest words possible. Most readers will only spend a few seconds looking at your email, so make sure it's easy to scan. 
Good example: Holiday Greetings from JMU! Has minimal text and one call-to-action. 
Newsletters
For longer stories/news items, write an interesting summary for each news item in the email and then provide a link to "read more" online rather than providing lots of text in the email. 
Good Example: Madison Update: Sugar Crash  This email is easy to scan and provides links to read more.
From name
Often, the sender name affects open rate more than the subject line does. If the sender is familiar and trusted, it boosts the likelihood that your recipient will open the email.
As a general rule, emails should come from a department/school/division, NOT an individual. Use a from email address that is associated with your area, and make sure that it is a monitored email box. 
Identify James Madison University or JMU in the from name or the subject line. 
Subject Lines
Give information about what your email is about; your recipient wants to know that the content of the email will be interesting and relevant to them.
Write several subject lines, then choose the best one.
Don't use more than 50 characters, so it doesn't get cut off in the inbox.
Preheaders
This is the line of text that shows after the subject line in the inbox
Tease the email content, build off of the subject line
 You can test your subject line with the subject line preview tool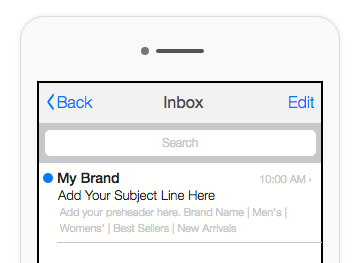 Links
Don't say "click here", give info about the link: "read on JMUSports" "Madison Grill menu"
If the text of the link is a url, don't include "http://" and ".html"
Avoid putting links in the middle of a sentence, it's easier to click them at the end of a sentence
Use a button, it screams "push me" (and there's more surface area for fat fingers on tiny screens)
"Countdown" Timer Feature
You can also add a "countdown" timer feature to your emails by downloading it for free from here
Click on the link and complete the form on the page

For the digits and label colors, set the hex code to #450084 (JMU's dark purple)
For the background color set the hex code to #FFFFFF (white)

Once you complete the form, click "Generate"
Copy the HTML code and paste it into your email template; the code will automatically convert to the countdown timer
Animated .gifs in Email
To learn how to create animated .gifs for your email, watch this video
If you do not have time for the video, read through this Adobe tutorial on creating animated .gifs; it shows you how to build from both images and videos
To guarantee that you make the right choices to make smart and effective .gifs specifically for email, it is recommended you watch the video
Remember, it is important to keep the size of .gifs small in an email