Email Name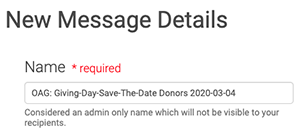 The "Name" value must follow this format "Department: Description Audience Date".
It consists of 4 parts separated by spaces.  The 4 parts have been color coded above so you can see them more easily.
Why is it important to have the name follow this convention?
There are a lot of emails that go through the system, with a lot of different email authors, and it gets very messy very quickly if we don't have some kind of naming convention.
It makes it easier to find emails in the system after they are sent. For example, you can just search for "OAG" in the history tab, and voila, all emails sent by OAG will appear!
It makes it easy to do analytics later.  For example, if you wanted to find the open rate for all OAG emails sent to Students on Tuesday mornings, you could do it very quickly, but

only if this naming convention is followed

.
The Department portion of the name is simply the department sending the email.  We have to have a colon on the end of the department because it helps us more accurately filter on department later.  Here is the current list of departments that can send through our system.  If you don't choose one of these, you will be getting an email from the email releaser :)
1911 = 1911 Society
AA = Academic Affairs
ABA = Advancement Business Applications
ABP = Alternative Break Program
AR = Advancement Relations
CAL = College of Arts and Letters
CE = Civic Engagement
CGE = Center for Global Engagement
CHBS = College of Health and Behavioral Studies
CHEM = Department of Chemistry and Biochemistry
CISR = Center for International Stabilization and Recovery
CMP = Campaign
CoB = College of Business
COE = College of Education
CSM = College of Science & Mathematics
CVPA = College of Arts and Visual Performance
DR = Donor Relations
ERA = Ethical Reasoning in Action
FF = Furious Flower Poetry Center
GCFE = Gilliam Center for Entrepreneurship
HART = Hart School of Hospitality, Sport and Recreation Management
HC = Honors College
ISNW = Institute for Stewardship of the Natural World
ISSS = International Student and Scholar Services
LIB = Libraries
MC = Madison Champions
MM = Madison Magazine
MT = Madison Trust
MSAT = Masters in Athletic Training
OAG = Office of Annual Giving
OAI = Office of Access & Inclusion
OPG = Office of Planned Giving
PCE = Professional and Continuing Education
PR = Parent Relations
PHIL = Philosophy and Religion
PRES = President
PROVOST = Office of the Provost
PSYC = Department of Psychology
SA = Student Affairs
SAA = Student Alumni Association
SADAH = School of Art, Design, and Art History
SG = Strategic Gifts
SMAD = School of Media Arts and Design
SPE = Strategic Planning & Engagement
TGS = The Graduate School
TEST = Test
UA = University Advancement
UE = University Events
UCOMM = University Communications
VS = Valley Scholars
W4M = Women for Madison
Xlabs = X-Labs
The Audience portion of the name helps us schedule emails appropriately so that a single audience does not get bombarded by emails on a single day or hour.  Valid audiences are:
Alumni: Alumni (general)
OA: "Older Alumni": Alumni who have graduated more than 10 years ago
YA: "Younger Alumni": Alumni graduated in the last 10 years
Donors
FAC: Faculty/Staff
Friends: Friends of JMU
Lapsed: Lapsed givers
LYBUNT: Gave last year but unfortunately not this year
Never: Never-givers
Parents: Parents of current students
STU: Current students
TBD: To Be Discussed
MIX: Any mix of the above
The Description portion of the name helps us distinguish emails from one another if other fields are similar.  It needs to be without spaces.  Here are some examples of descriptions:
Madison-Update-3/2
CoB-Newsletter-January
The Date helps us to quickly determine roughly when the email is scheduled to send, or when it was created, so we can quickly scan through lists of emails to determine when it was sent.  It needs to be a date without spaces.  For example:
Here are examples of valid email names:
MT: Madison-Trust-2019 Donors 2019-02-05
UA: Social-Toaster YA 2019-01-21
OAG: EOY-Giving ALL 2015-12-28