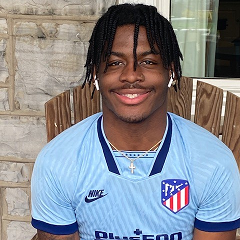 Written by Kate Peppiatt, '23.
Attending the Summer Honors Institute (SHI) changed everything for Deaquan Nichols, a biophysical chemistry major from Roanoke, VA. Originally committed to Princeton as a junior in high school, Deaquan never gave serious consideration to JMU until he participated in the SHI. However, "every day on campus, I felt like I belonged and as a minority student that is hard to find," he recalls. Through this weeklong program where he attended classes and met Honors faculty members, the SHI cemented Deaquan's desire to attend JMU.
Now as a student, "I get a sense of home here. I feel like wherever I go, someone has my back," says Deaquan. Deaquan has also found a home within the Honors College. He chose Honors "because it's a tight-knit family within a big community." He felt welcomed into Honors because "every faculty member in Honors tries to build a personal relationship with each student." Currently, Deaquan is a member of Honors Ambassadors. By reaching out to potential and incoming Honors students, he helps provide them with the same sense of home that he felt during the SHI. He emphasizes, "you are never really alone in the Honors College." Deaquan continues to be an integral element of the Honors community through this continued connection to faculty and drive to better the community.
In addition to his participation in Honors Ambassadors, Deaquan is a player on the JMU football team, a founder of the JMU chapter of the National Organization for the Professional Advancement of Black Chemists and Chemical Engineers (NOBCCHE), treasurer for NAACP, and a member of the Diversity, Equity, and Inclusion Council in the Honors College. Although he is unsure if he will continue to play football because of his dedication to his studies and other extracurricular involvement, he says he has had "amazing experiences both athletically and academically." Through his participation in his organizations, Deaquan hopes to leave an impact on campus. He said, "I am a strong believer in equity for all people." His involvement on campus will help him "be a catalyst in change. Being a part of NOBCCHE is focused on the uplifting of minorities in any of the STEM fields and [he thinks] that's a very powerful thing."
Deaquan is also making his mark within the classroom. Working alongside Professor Oleksandr Kokhan, he has been conducting research on proteins since late in his senior year of high school. Deaquan plans to present his research this semester at the Honors Symposium and in several conferences in the upcoming year. He also hopes that his research will become a part of his Honors capstone project as he continues to develop his understanding of the subject. Both inside and outside the lab, Deaquan is making his mark on campus.