Celebrate. Educate. Preserve.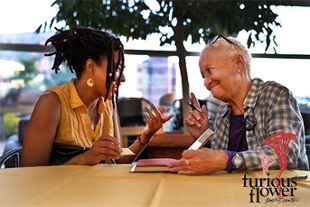 The nation's first academic center for Black poetry, the Furious Flower Poetry Center is committed to ensuring the visibility, inclusion, and critical consideration of Black poets in American letters, as well as in the whole range of educational curricula. Our programming seeks to cultivate an appreciation for poetry among students of all levels—from elementary to graduate school and beyond. In addition, Furious Flower seeks to support and promote Black poets at all stages of their careers and to preserve the history of Black poets for future generations.
Furious Flower serves James Madison University, our local Harrisonburg community, and scholars everywhere with education, research, and publishing:
The Furious Flower Poetry Conference | National poetry prizes | Community summer camps | Campus readings and lectures | Educational Programs | Black history archives
Our History
In "The Second Sermon on the Warpland" (1968) Pulitzer-Prize winner and former U.S. Poet Laureate Gwendolyn Brooks writes,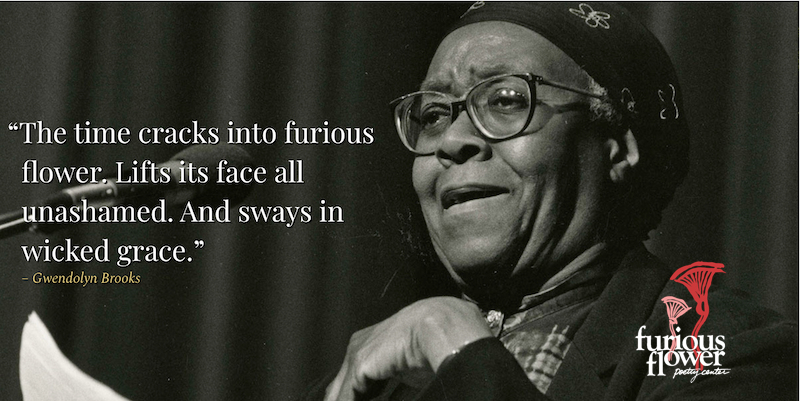 Image text:
The time
cracks into furious flower. Lifts its face
all unashamed. And sways in wicked grace.
-Gwendolyn Brooks
Taking our name from these lines in Brooks' poem, Furious Flower is an academic center that originated in the acclaimed 1994 Furious Flower Poetry Conference, the first major conference on African American poetry since the 1970s. This event, envisioned and organized by distinguished scholar and professor Dr. Joanne Gabbin to honor Brooks and her literary legacy, was titled "Furious Flower: A Revolution in African American Poetry." More than 30 presenters discussed the genre with an audience of hundreds of writers, scholars, and poetry enthusiasts. The conference garnered national attention, and The Washington Post called it a "historic gathering." 
After a second successful conference in 2004, Furious Flower was chartered as an academic center at JMU and acquired a dedicated facility and staff. Since then, it has continued to grow, developing and presenting programming and resources unavailable elsewhere.