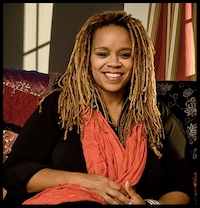 The fellowship is named in honor of the late scholar, poet, and professor Dr. Carmen R. Gillespie.
A double Duke, Dr. Gillespie received her bachelor's and master's degrees from James Madison University, where she studied with Furious Flower founder, Dr. Joanne Gabbin. Dr. Gillespie was active on campus and founded the JMU Women of Color organization, which continues to this day. Dr. Gillespie went on to earn a Ph.D. in Comparative Literature from Emory University. Her scholarship focused on Toni Morrison, Alice Walker, and various aspects of American and Caribbean literature and culture. She published three award-winning books of poetry, critical collections on Alice Walker and Toni Morrison, and received several prestigious fellowships for her writing. At the time of her passing, she was a beloved professor at Bucknell University, where she was the director of the Griot Institute for the Study of Black Lives and Culture. Before settling at Bucknell University, she taught at Virginia Commonwealth University, the University of Mary Washington, and the University of Toledo. This fellowship honors her commitment to educating others about Black poetry and culture. 
Purpose
The Carmen R. Gillespie Fellowship seeks to nurture the interest of a JMU student in Black Literature and Culture through mentorship and experience in literary arts administration with Furious Flower.
Fellow Responsibilities
During the tenure of their fellowship, students will:
Spend 6 hours per week at the center
Develop and execute/contribute to a project related to Black Poetry
Assist in hosting Furious Flower events
Serve as a liaison between the center and the campus community
Award
The Carmen R. Gillespie Fellowship in Black Poetry and Culture awards $1500 for a semester-long fellowship (renewable once for a total of $3000).
Eligibility
The Carmen R. Gillespie Fellowship is open to James Madison University students in good academic standing. Students must have a demonstrable interest in Black literature/culture, and may not have been a fellowship recipient in the three years prior.
Application Process
Applicants for the fellowship will submit the following:
Completed application form (this will include a short description of their prior engagement with Furious Flower)
One letter of reference
Unofficial transcript
A statement of purpose explaining their interest in the fellowship, how it will benefit them, and a proposal for a project they'd like to accomplish during their tenure.
Selected finalists will be invited for interviews.
Applications are due by June 30 each year, and the Fellow(s) will be announced by mid-August.
Meet Our Gillespie Fellows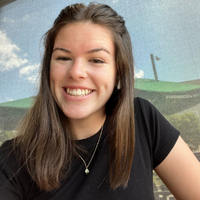 Lily Craig (2022)
Lily is an English major with minors in Secondary Education and African, African American, and Diaspora (AAAD) Studies. She is planning to pursue her Masters in Secondary Education after graduating in December of 2022. Lily will join us for the Fall 2022 semester as our second Gillespie Fellow. 
Lily's project for the Gillespie Fellowship was to develop a Unit Plan titled, Exploring Identity Through Black Poetry.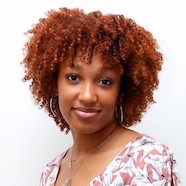 Jordanne Alexander (2021)
Jordanne is a senior Computer Science major and African, African American, and Diaspora Studies minor. She is the inaugural Carmen R. Gillespie Fellow at Furious Flower Poetry Center.


Jordanne's project for the Gillespie Fellowship was to design a blog on Furious Flower's website titled, The Seed.