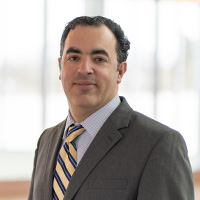 Teaching & Research Interests
Entrepreneurship

Innovation

S

trategic management
Education
Ph.D., Strategic Management and Entrepreneurship, Washington State University, 2009

M.B.A, Washington State University, 2005

B.A., International business and Marketing, Washington State University, 2000
Positions Held
Graduate Teaching Assistant at Washington State University, Pullman, WA.

Business Methods Analyst, The Boeing Company, Everett, WA.

Financial Representative, Northwestern Mutual Life Company, Seattle, WA.
Select Publications
Sahaym, A., Cho, S., Kim, S. Mousa, F.T. (2015) "Mixed blessings: how management heterogeneity an governance structure influence the use of corporate venture capital by post-IPO firms" Forthcoming Journal of Business Research.
Mousa, F.T., Wales, W.; Harper, S. (2015) "When less is more: EO's influence upon funds raised by young technology firms at IPO" Journal of Business Research, 68(2): 306-313.
Liu, K; Arthurs, J.; Nam, D.; and Mousa, F.T. (2014) "Information diffusion and value redistribution among transaction partners of the IPO firm" Strategic Management Journal.
Mousa, F.T. and Chowdhury, J. (2014). "Organizational slack effects on innovation:the moderating roles of CEO tenure and compensation?" Journal of Business Economics and Management, 15(2): 369-383.
Mousa, F.T., Reed, R. (2013) "The impact of slack resources on high-tech IPOs" Entrepreneurship Theory and Practice, 37(5): 1123-1147.
Awards and Recognitions
2014-15  Dean's Impact Award (College of Business)
2014 Nominated to represent JMU for the 2014 Virginia Outstanding Faculty Rising "Star Award", State Council for Higher Education for Virginia (University)
2014 College of Business Faculty Summer Research Grant
2014 American Journal of Business Outstanding Reviewer Award
2013 College of Business Faculty Summer Research Grant
2012 JMU Distinguished Service Award, COB/CISR collaboration. Awarded, along with the COB/CISR faculty
2011 College of Business Community Service Award, along with the COB faculty team