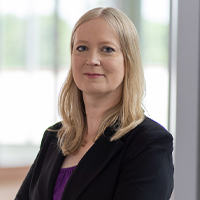 Teaching and Research Interests
Labor economics
Household economics
Microeconomics
Financial planning
Education
Ph.D., Economics, The George Washington University - 2002 
M.Phil., Economics, The George Washington University - 1999
B.S., Economics, The George Washington University - 1996
Positions Held
Professor, Texas Tech University, 2017-2022

Ph.D. Program Director, Texas Tech University, 2016-2021

Director of the Retirement Planning and Living Research Initiative, Texas Tech University, 2016-2019

Ph.D. Program Co-Director, Texas Tech University, 2014-2016

Associate Professor, Texas Tech University, 2013-2017
Select Publications
Charlene M. Kalenkoski and Sabrina W. Pabilonia (2022). "Parental Disability and Teenagers' Time Allocation," Review of Economics of the Household, https://doi.org/10.1007/s11150-022-09617-7.
Mark Evers, Charlene Kalenkoski, and Michael Guillemette (2022). "The Influence of Natural Disasters on the Take-up Rates for Flood Insurance in Texas -A Panel Approach," Journal of Insurance Issues, Vol. 45, No. 1, pp. 86-104.
Pearson, Blain and Charlene Marie Kalenkoski (2022). "The Association between Retiree Migration and Retirement Satisfaction," Journal of Financial Counseling and Planning, Vol. 33, No. 1, pp. 56-65.
Kalenkoski, Charlene Marie and Sabrina Wulff Pabilonia (2022). "Impacts of COVID-19 on the Self-employed," Small Business Economics Vol. 58, pp. 741-768. https://doi.org/10.1007/s11187-021-00522-4.
Cardella, Eric; Kalenkoski, Charlene Marie; Parent, Michael (2021). "Less Is Not More: 401(k) Plan Information and Retirement Planning Choices," Journal of Pension Economics and Finance, First view, pp. 1-21, DOI: https://doi.org/10.1017/S1474747221000445
Awards and Recognitions
Faculty Development Leave, Texas Tech University, Fall Semester - 2020 
Research Spotlight on Texas Tech Women Faculty Initiative, Texas Tech University - 2020 
Northwestern Mutual Best Paper Award, Academic Research Colloquium for Financial Planning and Related Disciplines - 2020
College of Human Sciences Nominee for the President's Academic Achievement Award, Texas Tech University, 2017-2018 
Plan Plus Best Paper Award in Behavioral Finance at the Academy of Financial Services Conference - 2017 
Research Fellow, Institute for the Study of Labor (IZA), 2009-present