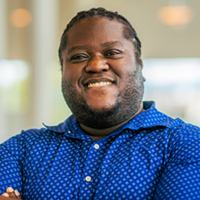 Assoc. Vice Provost, Faculty Success; Exec. Dir., Center for Faculty Innovation; Assoc. Professor, Hart School
hornsbgd@jmu.edu
Contact Info

Research and Teaching Interests
Cost Controls and Budgeting

Human Resource Management

Diversity, Equity, and Inclusion

Early Career Preparation
Education
Ph.D, Hospitality Management, Oklahoma State University - 2015
M.S., Hospitality Administration, Oklahoma State University - 2012
B.S., Hospitality Management, University of North Texas - 2009
Positions Held
Associate Vice Provost, Faculty Success, August 2023-present

Executive Director, JMU Center for Faculty Innovation, August 2023-present

Interim Executive Director, JMU Center For Faculty Innovation, 2021-August 2023

Associate Professor, Hart School of HSRM, 2021-present

Assistant Professor, Hart School of HSRM, 2015-2021
Select Publications
Hornsby, G. (2021). We are the Future of ICHRIE. Journal of Hospitality & Tourism Research. March 2021. doi:10.1177/1096348021998747
Hornsby, G. (2020). Exploring minority students' sense of belongingness and satisfaction in U.S. hospitality programs: An examination of departmental cultural climate. The Consortium Journal of Hospitality, 22(1), 3-29
Hornsby, G. (2020). The case for a tri-continuum of entrepreneurial behavior. ICHRIE Research Reports. International Council on Hotel, Restaurant, and Institutional Education.
Hornsby, G. (2019). Minority entrepreneurship. Events and Tourism Review, 2(1), 30-48.
Hornsby, G., Scott-Halsell, S., Curtis, C., Ryan, B., & Kirksey, J. (2017). Do I fit in? Impact of race on hospitality student perceptions of departmental climate. Journal of Teaching in Travel & Tourism, 17(4), 219-236.
Awards and Recognitions
J.W. and Alice S. Marriott Endowed Professorship - 2021-2025

Provost Distinguished Service Award - 2018

National Society of Minorities in Hospitality Advisor of the Year - 2017