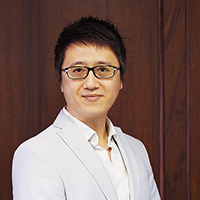 Associate Professor, Computing Information Systems and Business Analytics
Year Started at JMU: 2010
guocx@jmu.edu
Contact Info

Education
Ph.D. Business Information Systems, Mississippi State University
M.S. Operations & Management Information Systems, Northern Illinois University
B.B.A. International Marketing, Guangdong University of Foreign Studies
Professional Interests
Cybersecurity

Cross-Cultural IT Management

IT Innovation

Pedagogical Research

Database
Current Courses Taught
CIS425 Cybersecurity

CIS330 Database Design & Application

MBA685 Information Security Ethics & Policy

COB204 Intro to MIS
Positions Held
2010-present, Assistant Professor, James Madison University
Awards and Recognitions
College of Business Significant Contributions Recognition Award, James Madison University 2014
Madison Research Fellow, James Madison University 2011
Scholarship, International Business Strategy Program, College of Business & Industry, Mississippi State University, November 2009
Distinguished Research Award of 2008 Spring Allied Academies International Conference, Tunica, MS, April 2008
Distinguished Doctoral Student Research Award, College of Business & Industry, Mississippi State University, April 2008
Research Assistant of the Year Award Nominee, 2007 – 2008, Mississippi State University, April 2008
Key Publications
Shim JP, Guo C and French AM (2015) Big Data and Analytics: Issues, Solutions, and ROI. Communications of the Association for Information Systems Forthcoming.
French AM, Guo C and Shim JP (2014) Current Status, Issues, and Future of Bring Your Own Device (BYOD). Communications of the Association for Information Systems: Vol. 35, Article 10.
Guo C and Hu X (2012) Rogue Insiders, Signature Loopholes, and Fraud Rings: Lessons Learned by a Chinese B2B Mogul. International Journal of Accounting Information Management, Vol. 20(4), pp. 348 - 362.
Guo C, Shim JP and Otondo R (2010) Social Network Services in China: An Integrated Model of Centrality, Trust, and Technology Acceptance. Journal of Global Information Technology Management, Vol 13(2).
Shim JP, Guo C (2009) Weblog Technology for Instruction, Learning, and Information Delivery. Decision Science Journal of Innovative Education, Vol 7(1).
Other Publications
January 2014

Dr. Chenqgi "John" Guo (Assistant Professor, Computer Information Systems and Business Analytics) and J.P. Shim (Georgia State University), Sasha Dekleva (DuPaul University) and Aaron M. French (The University of New Mexico, Albuquerque) published an article, "Social Networking and Social Media in the United States, South Korea, and China" in the journal Communications of the Association for Information Systems. The article summarizes a panel of four experts on social media, including Guo, which not only examined the status quo of social networking but also predicted the future of some of those networks. The article is on the list of "Most Popular Papers" for CAIS, a prominent journal that fosters the free flow of ideas within the IS community, with an emphasis on originality, importance and cogency of ideas.