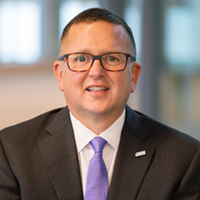 Biography
Dr. Michael E. Busing is Dean and the Betty Coe ('64) & Paul J. Cinquegrana Endowed Chair in Business Ethics & Leadership at James Madison University. In this role, he leads an organization of more than 230 faculty and staff members and over 5,000 students in JMU's undergraduate and graduate AACSB-accredited business programs as well as two non-AACSB affiliates - the Hart School of Hospitality, Sport and Recreation Management and the School of Strategic Leadership Studies. 
Prior to his January 2019 dean appointment, Michael served as Associate Dean for Academic Affairs in the College of Business.  He was instrumental in the 2017 reaccreditation of both the business and accounting programs by AACSB International. Dr. Busing also provided oversight for the College's undergraduate academic advising and the MBA Program. 
Michael began his academic career at JMU in 1996 as an assistant professor of operations management after completing a Ph.D. degree in Industrial Management at Clemson University. During his 23 years at JMU, he earned tenure and was ultimately promoted to the rank of professor in 2010. He served as Director of MBA Programs from 2010 to 2015 and, under his leadership, enrollments grew along with quality of students and instruction which resulted in several national rankings - including #9 (#1 among Virginia schools) on the 2014 U.S. News & World Report Best Online Graduate Business Programs. 
Michael was born and raised in Anderson, Indiana.
Areas of Expertise
Shop floor control systems
Push/Pull/Hybrid shop floor control supply chain
Business analytics 
Education
Ph.D., Industrial Management, Clemson University - 1996
M.S., Management Science, Ball State University - 1990
B.S., Management, Purdue University - 1988
Positions Held
Associate Dean for Academic Affairs, 2015-2018
Director of MBA Programs, 2010-2015
Professor of CIS & Business Analytics, 2010-Present
Associate Professor of CIS & Business Analytics, 2002-2010
Assistant Professor of CIS & Business Analytics, 1996-2002
Select Publications
Busing, M.E. and Palocsay, S.W.  "Operations Management in the Design and Execution of MBA Programs," Journal of Education for Business, Vol. 91, No. 2, 2016. pp.75-82.
Pal, R. and Busing, M.E.  "Effectiveness of Teaching Operations Management in an Integrated Format,"  International Journal of Production Economics, Vol. 115, 2008.  pp. 594-610.

Rosenkranz, S.R., Busing, M.E., Teer, F.P., and Forcht, K.A.  "The Role of Quantitative Analysis in the Information Security Systems Development Lifecycle," Journal of International Technology and Information Management,  Vol. 16, No. 2, 2007.  pp. 16-26.

Pal, R. and Busing M.E., "Student Perception of Operations Management Courses When Offered as Part of an Integrated Experience With Common Deliverables," Proceedings, Annual Meeting of the Decision Sciences Institute, Phoenix, Arizona, 2007.

Busing, M.E., Null, J.D., and Forcht, K.A.  "Computer Forensics:  The New Crime Fighting Tool,"  Journal of Computer Information Systems, Vol. 46, No. 2, 2006.  pp. 115-119.