Open doors. Give the gift of learning.
Scholarships are life-changing. Your donation to student scholarships has a direct, immediate and long-lasting effect on the lives of our students that reaches well beyond the need for tuition, housing and books. These funds enable them to participate in professional conferences to further explore their chosen careers and network with professionals in their fields. They pay for study abroad experiences that enrich their worldview and global business perspective. And they send students to competitions that hone their critical thinking, problem solving and analytical skills, all while raising the visibility of the CoB to potential employers and other universities.
Invest in human capital through a College of Business scholarship today.
"Receiving these scholarships has allowed me to focus more on my studies, and definitely has made the transition from high school to college much easier on me. These scholarships not only encourage me to work hard and put forth my best effort in everything I do, but they are also a sense of pride and satisfaction for me"
-Ivan Aliaga Frisancho ('23)
---
"The opportunity to earn a higher education is something that I truly value, especially coming from a family of immigrants. My dad had the chance to earn his college degree but my mom did not, so I am grateful for the opportunity to represent my family in the College of Business."
-Mya Baptiste ('22)
---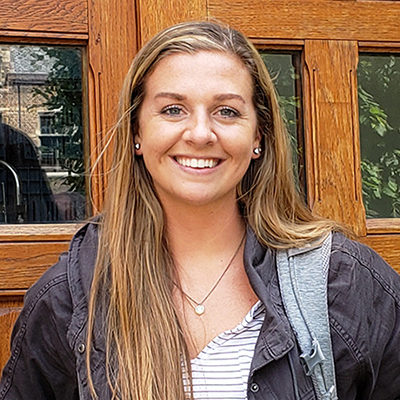 "Taking classes with other University of Antwerp students and professors has opened my eyes to different cultures, languages and ways of thinking. The students my age here are creating change and developing innovative products and technology all by themselves. Now I don't see why I shouldn't be setting the sky as my limit for myself in my future studies and job search."
-Meghan Bailey ('21)
---